MEV rocks up with electric mini Hummer HX
Tue, 07 Jun 2011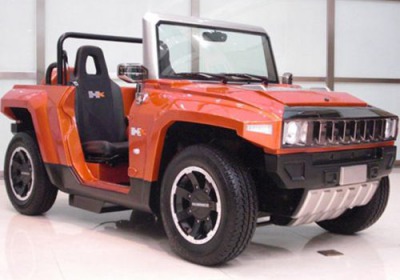 The 2008 Hummer HX concept was supposed to be General Motors' answer to the Jeep Wrangler. To put it mildly, that failed to materialize. General Motors killed Hummer as part of its bankruptcy-induced limb severing in 2009, before the HX could be brought to fruition as the H4, as had been rumored.

For those of you who wish the HX had indeed surfaced, we have some excellent news: My Electric Vehicle, or MEV, has appropriated the HX concept, added an electric drivetrain and created the MEV Hummer HX. The MEV HX is a fully electric golf cart resort vehicle, licensed by GM and sporting Hummer wheels and skid plates.


We're still trying to figure out if the MEV Hummer HX has any practical purpose, which could take some time. While we're doing that, feel free to hop the jump to see a video of the $16,000 electric Hummer knockoff in action.


---
By Aaron Richardson
---
See also: SEMA 2010: Zero South Biodiesel Electric Hummer shows its guts, Turn Out the Lights: Final Hummer H3 rolls off the line... for Avis, Report: Last-ditch sale effort for Hummer post wind-down announcement fading.