Lincoln unveils its Black Label Collection at Pebble Beach
Thu, 15 Aug 2013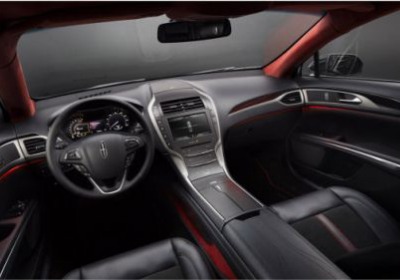 With the posh surroundings of Monterey, CA during the Pebble Beach week as a backdrop, Lincoln has unveiled is new personalization and luxury service brand, called Lincoln Black Label. Following in the footsteps of programs like BMW Individual, Range Rover Autobiography, and many more, Black Label is strategic strike, aimed at upping Lincoln's brand cachet while luring new customers into the fold. Speaking about this at the Black Label's introduction in California Thursday, Jim Farley, Ford's executive vice president of Global Marketing, Sales and Service and Lincoln, told members of the media that "At Lincoln, our flagship is, you get to choose. That's our flagship."

While Black Label customers will benefit from concierge-like service from their dealers – both during the sale process and throughout ownership – the focus of the introduction is strongly focused on interior design.

Lincoln chose its current MKZ sedan and its MKC Concept crossover (seen in the inset image) as the debutants for Black Label treatment for good reason: the well-received MKC points the way forward for Lincoln styling as a whole, and the MKZ will be the first production vehicle to receive the option of the high-zoot interior design. We're told that eventually, Black Label treatment will be available for the full Lincoln lineup, but the MKZ will be the initial recipient, and not until late in 2014 according to the company's current projections.


Black Label interior treatments do make for compelling furniture.
That we have to wait so long for the high-end MKZs is a bit of a head scratcher, but the Black Label interior treatments do make for compelling furniture. Designers have focused on creating evocative environs, using fairly dramatic color and contrast, and through the use of premium leathers, Alcantara and natural woods. The resultant three interior treatments for the MKZ are dubbed Modern Heritage, Indulgence and Center Stage.

The Center Stage treatment (seen at the top) is the most dramatic by a long ways, matching an unmissable Foxfire Red headliner and red accents with an otherwise blacked out interior. Perforated Alcantara inserts for the seats and door offer an interesting material pattern, too. The Indulgence car seems aimed at the widest band of Lincoln shoppers, with layered brown tones ("Ganache" and "Truffle") and a cool, undyed, natural grain wood called Ziricote. Modern Heritage meanwhile, seen on both the MKZ and the hot MKC Concept, offers an ultra-high-contrast white and black treatment with metal flake-imbued wood trim. That's bling special, to be sure.

You can find a bit more detailed information in Lincoln's official press release, and a lot of interior pictures to dig through in our Black Label galleries.

New Lincoln Black Label Collection for the Luxury Customer Previewed at Pebble Beach


> Lincoln Black Label previews a new and higher level expression of Lincoln design, style, materials, craftsmanship and personal service and experience

> Ultra-premium materials and meticulous execution complement three stylish and sophisticated themes from Lincoln Design team

> Brand and dealers to collaborate on consistent, personal and integrated customer experience that respects the luxury of time

PEBBLE BEACH, Calif., Aug. 15, 2013 – Lincoln, the luxury automobile brand, today previewed Lincoln Black Label, a collection of ultra-premium exterior and interior themes mated to an even higher level of personal services and experiences that mark the next step in the brand's reinvention.

Showcased on an all-new MKZ and the MKC Concept, Lincoln Black Label eventually will be available on every new Lincoln vehicle. This full-range availability enables more vehicles in the model portfolio to be equipped with this higher-level expression of luxury than currently offered by any competitor.

"The new Lincoln Motor Company is built on three foundational elements – design, quality and personal service; Black Label represents our highest expression of these elements," said Jim Farley, executive vice president of Global Marketing, Sales and Service and Lincoln.

"The progressive luxury client craves to know the story behind the products and services they engage – they want to feel that personal connection. That's at the heart of Black Label; we want to provide special experiences for every Black Label client before, during and after they choose their new Lincoln vehicle."

Lincoln and Black Label dealers will collaborate to create a consistent, personal and integrated client shopping and ownership experience. The entire process will provide respect for the luxury of time with a complete suite of elevated customer services to be unveiled at the time of Black Label market introduction.

Limited-edition design themes, ultra-premium materials, meticulous execution and elevated client service will be the hallmarks of Lincoln Black Label.
Black Label was conceived and designed by a select Lincoln Design team to reflect the breadth of the brand. In its earlier days, Lincoln was a favorite vehicle for unique, sophisticated and luxurious bespoke exterior and interior themes. This has inspired a new direction to provide a higher level of luxury available to all clients of the brand – not just those who purchase the most expensive, top-of-range models.

Creating a family of elegant themes that represents confidence and sophistication, each of the three interior environments presented at the preview is coordinated with exclusive exterior colors.


The materials for each interior environment have been selected to reflect the team's desire to create a warm and sophisticated package that also tells a story.

After starting with nearly two dozen concepts, the Lincoln Black Label design team honed in on a select few themes, each inspired by trends in fashion, food and architecture as well as lifestyles and experiences.

"Each of the theme-based offerings from Black Label is designed with a specific customer profile in mind," said Susan Lampinen, group chief designer, Color and Material Design. "Lincoln Black Label will offer a variety of choices as well as a narrative that speaks to luxury clients – we want them to feel a personal connection with the theme and see themselves in the car."

Lincoln Black Label themes
Center Stage, inspired by fashion and theater, is designed for the most expressive clients. The Jet Black interior is highlighted by a Foxfire Red headliner, capturing the drama of being in a dark theater with the impact of a rich, deep red accent color. Alcantara suede with uniquely designed perforation adds plush texture to the doors and seats.

Indulgence is inspired by the lure of premium chocolate to ignite a rich sensory experience. Ganache- and Truffle-colored Venetian leather with a subtle antiqued finish adds richness and depth. The Ziricote wood trim features a beautiful natural grain and color inherent in the wood with no added dyes or stains. This wood - new to the automotive industry - is often used in high-end yachts.

Modern Heritage offers a fresh take on the classic black-and-white interior with subtle red accents. Designed for the client who appreciates a clean, modern aesthetic, the soft white interior is warm and inviting. Renewed and engineered wood trim - imbued with metal flake between its layers - creates a sparkling effect to stylishly highlight this modern classic design.

The selection of Lincoln MKZs with Black Label execution includes:
• Indulgence with Chroma Couture exterior and Truffle interior
• Center Stage with Black Tie exterior and Jet Black with Foxfire Red accents interior
• Modern Heritage with Confidential White tri-coat exterior with Vianca interior

MKC Concept features Chroma Flame exterior with its Modern Heritage theme.

Material selection, meticulous execution and craftsmanship will elevate Lincoln Black Label vehicles. Lincoln Black Label materials experts examined options from the entire sphere of luxury offerings to create the Black Label palette.

"Because Lincoln Black Label is our highest offering of the expression of personal luxury, we took our materials selections personally as well," said Lampinen. "We believe this personal touch and involvement will help separate Lincoln from other offerings."

Specialty leathers: Carefully selected and engineered to deliver the softest feel with a premium appearance, the seats are made from Venetian leather. Custom-made for Lincoln Black Label, less than 1 percent of hides globally meet the requirements for becoming Venetian leather.

The instrument panel, center console and doors are leather-wrapped and stitched. Subtle Diamond-L and Linking-L perforation patterns specially designed for Black Label accent the seats and door trim.

Natural woods: Sought out globally and selected for maximum richness of color and grain, these woods for the instrument panel, door appliqués and steering wheel bezel complement the themes. The Ziricote wood used with Indulgence was selected because its natural beauty resonates without stains or dyes.

Alcantara®: A long-recognized premium material associated with high design in a variety of industries, including interior design, consumer electronics and aviation, as well as automotive, Lincoln designers specifically selected it to wrap the headliners, visors and pillars and to trim the floor mats.

Clients interested in acquiring a Lincoln Black Label-equipped vehicle will find the shopping and selection process personal and enjoyable. Whether a client's first point of contact is through the Lincoln website or at the dealership, Black Label experts will guide them through the process. Lincoln Black Label is intended to launch near the end of 2014.

"Lincoln Black Label will offer an experience for our clients that will engage them, not overwhelm them," said Farley. "Lincoln Black Label is another important step in our brand's reinvention to appeal to a whole new group of progressive luxury clients."
---
By Seyth Miersma
---
See also: Ford to update Sync, MyFord Touch software... again, What will the next Presidential limo look like?, Lincoln poised to double MKZ Hybrid production.