Lincoln MKC prototype caught partially covered, reveals some changes
Tue, 14 May 2013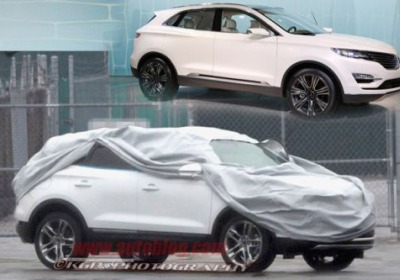 When Lincoln pulled the wraps off the MKC Concept at the Detroit Auto Show earlier this year, we said that the very attractive concept was going to closely mirror the production vehicle. With few exceptions, a clad prototype recently caught running on public roads seems to substantiate our statement.


From what the pictures reveal, the disguised Lincoln MKC production mule and show concept seem to share the same waistline with identical sculpting over the wheels. The midsection of the two also appear to match with the same flare and styling. The lower rockers have been cleaned up a bit, mainly to be more practical in the real world (the deep chisels on the show car would have collected mud and snow).

Taking a look at the exposed front bumper, we see a very similar lower fascia complete wtih the metal skid plate on the chin. The window profile also seems to match the concept, though we're still unclear exactly how that C- and D-pillar section is going to look. Of course, and it always seems to be the case when concepts evolve into production vehicles, the MKC gains four normal door handles, standard-sized mirrors and a slightly smaller wheel/tire package. We expect the production version of the Lincoln MKC to debut later this year.
---
By Michael Harley
---
See also: Farley says Lincoln learnings in China could influence brand in US, Ford rethinking vehicle launch strategy, Ford's Jim Farley hints at Lincoln sales rebound.