Ken Block rally cars go blue in the face (and everywhere else)
Wed, 23 Jan 2013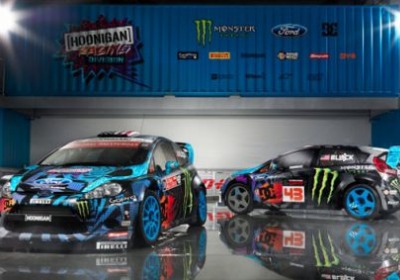 Well at least we now know why Ken Block "just ain't care" about smashing up his Ford Fiesta rally car recently. It's because he's getting a full brand makeover including a new team name, new paint scheme and even a new headquarters. Formerly known as Monster World Rally Team, Block and his Fiesta will now be competing under the Hoonigan Racing Division name, which is based out of a new 12,000 square foot facility located in Park City, UT.

As you can tell in the image above, Hoonigan Racing will replace the familiar black, white and green paint scheme with a more colorful design featuring plenty of blue, purple and red; the Monster Energy logo retains some of the car's green. The new paint scheme was inspired by Block's love of skateboard graphics from the '80s and early '90s as well as "Miami Vice-era" speedboats.

Block will continue to compete in multiple rally racing series such as Global RallyCross, World Rally Championship and X Games. The new headquarters features office space on one side and a shop for the cars on the other side. The building features plenty of stuff you'd expect from a company designed around Ken Block, including a massive gaming station for racing video games, recycled shipping containers used throughout the facility and a black bear.


Block also hints at the next Gymkana on the Hoonigan Racing blog:


I can't comment too much on it at this point, but we're taking a very different approach to it for this year. That's all I'm going to say right now!"

So, we guess we'll be looking forward to that, then.
---
By Jeffrey N. Ross
---
See also: Consumer Reports: Ford Fusion fun but flawed; Mitsubishi i-MiEV slow, chintzy [w/videos], Autoblog Podcast #317, Nelson Piquet and Nigel Mansell revisit bitter F1 rivalry in... Ford Fusion campaign?.