Jeep Twitter account hacked, bad language, poor grammar and some hilarity ensue
Tue, 19 Feb 2013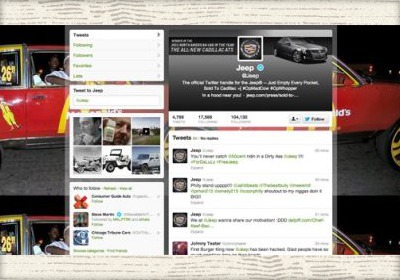 Just a day after Burger King's Twitter account was compromised by "unauthorized users," Jeep's social media feed has been similarly hacked. Both instances of digital incursion share some similarities – the BK hackers changed the company's logo for McDonald's familiar golden arches, saying a sale had occurred, while the Jeep miscreants have replaced Jeep's branding with that of General Motors property Cadillac.

The resulting tweets from the damaged Jeep account have been a pretty brutal, to put it bluntly. Most of the content coming from the hacked account is unpublishable here, using language that is peppered with racial epithets, and poorly worded "shout outs."

In addition to the defamatory tweets themselves, the hackers have significantly altered the layout of the page. Jeep's header image now features a picture of the Cadillac ATS to go along with the Wreath and Crest, some language calling out that car as winning the 2013 North American Car of the Year award, and this gem: "The official Twitter handle for the Jeep® – Just Empty Every Pocket, Sold To Cadillac =[" Also, perhaps in an ode to yesterday's Burger King heist, the background image for the page now features a McDonald's-themed donk. The devil's in the details, we guess.

Stay tuned to @Jeep's feed, as the inevitable shut down, recapture, and public explanation/apology are sure to play out in short order. Don't forget to change your passwords, kids.
---
By Seyth Miersma
---
See also: YouTube tallies votes for this year's top five Super Bowl spots [w/video], Cadillac CTS-V gets Stealth Blue and Silver Frost limited edition models, 2013 Jeep Wrangler Unlimited Rubicon 4X4.