Jay Leno bangs up his own Toronado in GT6
Wed, 11 Dec 2013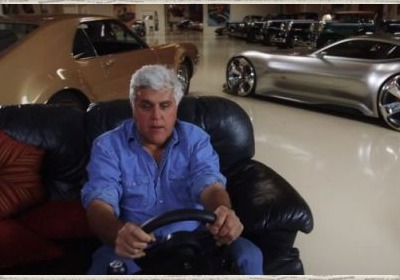 Ever since Gran Turismo 4, Jay Leno has had at least one of his cars included in the popular racing simulator (starting with the Tank Car), and more of his machines appears in Gran Turismo 6. They include this nose-heavy, front-wheel-drive V8-powered muscle car. Yes, that aptly describes a 1966 Oldsmobile Toronado - except Leno's is rear-wheel drive. And it has a Cadillac CTS-V race engine modified to pump out 1,070 horsepower.

For the latest Jay Leno's Garage episode, he takes his real Toronado out for a cruise and then drives the virtual one like he stole it, accruing some body damage along the way. Leno also drives the virtual supercar Mercedes-Benz designed for GT6, the AMG Vision Gran Turismo Concept that debuted at the LA Auto Show, along with the real one, which is a 1:1-scale model. The model is radio-controlled and equipped with a small electric motor, sufficient to move it on and off of auto show floors.


Head below to watch the episode, which includes a few words from GT6 creator Kazunori Yamauchi.



---
By Damon Lowney