Jaguar XFR-S is motor-porn on a mountain road
Tue, 04 Dec 2012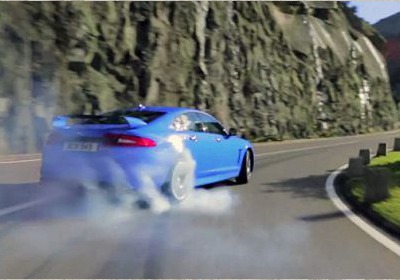 The 2014 Jaguar XFR-S might have only been good enough to take the runner-up spot in our Editor's Choice top five debuts at the LA Auto Show, but we'd be hard-pressed to find a car with a more exhilarating exhaust note. As proof of this, Jaguar released a video showing the XFR-S tearing up a windy, European mountain road in close to a minute of hardcore driving footage.

The big blue cat has the same great exhaust note of the XKR-S, and the driver puts all of the car's 550 horsepower to work demonstrating the handling – and drifting – abilities of the new XFR-S. If there's any disappointment to be had, it's the fact that you have to jump to the 30-second mark of the video for any of the action to start.


Scroll down to watch the video, and be sure your speakers are turned all the way up.


---
By Jeffrey N. Ross
---
See also: Jaguar producing short film starring Damian Lewis from Homeland [w/video], Jaguar F-Type greets US, shows off range of personalization, 2014 Jaguar XFR-S is the power and the fury.