Jaguar F-Type pitted against Porsche 911 Cabriolet by Tiff Needell
Wed, 24 Apr 2013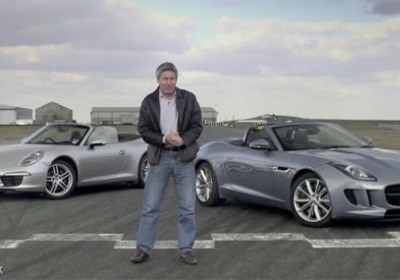 You knew it wouldn't take long and it looks like EVO is first onto YouTube with a battle between the 2014 Jaguar F-Type and the 2013 Porsche 911. Tiff Needell spends a few laps warming up the tires (read: drifting like mad) in each droptop before getting in a timed run to see who's champion and who's second best.

Before the bell rings, its the Porsche that's got everything to lose, the 50-year-old era-defining sportscar getting on with a 3.4-liter flat-six, 350 horsepower, a seven-speed manual and a 3,197-pound curb weight. Other sportscars, like the F-Type, continue to eye the 911 like a flag atop Everest that they plan to first touch, and then rip from its socket. The mid-trim Jaguar rolls into the contest with a 3.0-liter supercharged V6 with 380 hp, an eight-speed automatic with paddle shifters and a curb weight of 3,521 pounds.


The video below shows you what happens when you let all those numbers fight it out on the same stretch of curvy track. Check it out.




---
By Jonathon Ramsey
---
See also: Jaguar releases Desire short film starring F-Type and Damian Lewis, Porsche picks Maria Sharapova as brand ambassador, 2014 Porsche Panamera S E-Hybrid is one mean green machine.