J Mays on the 2015 Ford Mustang
Thu, 05 Dec 2013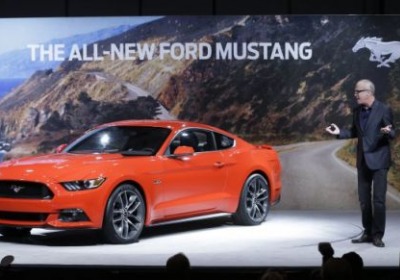 J Mays, head of design at Ford, may be retiring from the company after 16 years, but not before showing the world his swan song: the 2015 Mustang. Ford officially revealed its new coupe and convertible to the public at events around the world on Thursday, including a live unveiling on ABC's Good Morning America, and Mays was in attendance at the automaker's home event in Dearborn, MI, which is where we caught up with him for a few words about his new baby.

"It's a joy" to design the Mustang, Mays told Autoblog, adding that this sixth-generation coupe is his "favorite design so far." Of course, the 2015 model takes cues from all of the generations that came before it, but Mays said it was important to edit down the specific elements from previous models, leaving just enough off to let the customer "participate and fill in the blanks."



"If it doesn't sell itself, you probably aren't a Mustang fan."
"We could have gone down and checked the list," Mays stated. "We did that a little bit in 2005." There aren't any fake scoops on this car, no added plastic bits, and the faux-gas cap look to the GT emblem on the rear has been axed. "That's walking away from something [that] doesn't need to be there," we were told. Overall, the final 2015 Mustang design needed to be a cohesive package that tells a story of confidence, power and aggression. And while Mays said there were plenty of designs that he and the team really liked ("at some point, those will surface"), the company strived to find essential elements that would make this car a proper Mustang, even though so much of the design work "ends up on the cutting room floor."

As we told you in our Deep Dive, the Mustang will be offered with three engines, including a new 2.3-liter EcoBoost inline four-cylinder, expected to produce more than 305 horsepower. But unlike other models in the Ford range, Mays confirmed that the Mustang will not have specific EcoBoost badging. There's also the Convertible variant, which was absent from the Dearborn reveal, and Mays notes that the droptop model was designed right alongside the hardtop, since it was important to create a profile that would work on both bodystyles.

For the first time, Ford will officially offer the Mustang in markets outside of the United States, and Mays isn't worried about it failing to attract customers. Why? "It's drop-dead gorgeous" and there's "50 years of pent-up demand." The design boss said it was more important to get the design finalized first, and then offer it to the world. Sure, things like European pedestrian crash standards were baked into the car's design from the get-go, but being able to succeed on a global scale wasn't a major factor in creating the shape of the sixth-generation car. Besides, as Mays says, "If it doesn't sell itself, you probably aren't a Mustang fan."
---
By Steven J. Ewing
---
See also: Ford dissects the heart of the 2015 Mustang, its engine range, 2015 Ford Mustang Convertible shown on Twitter [UPDATE w/video], 2015 Ford Mustang [w/videos].