J.D. Power: Vehicle dependability at all-time high, Lexus and Porsche lead
Wed, 13 Feb 2013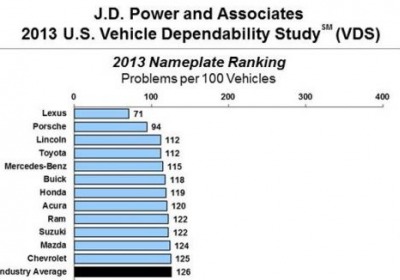 Each year, J.D. Power and Associates surveys original owners of three-year-old vehicles to find out what kinds of problems they have had experienced over the last 12 months, and then it uses this data to create its annual Vehicle Dependability Study. This means that the models in the 2013 study are 2010 model year vehicles, and J.D. Power rates each make as well as the top individual models based on how many problems were experienced per 100 vehicles (PP100).

Debunking the idea that carryover models are more dependable than new or updated models, the 2013 study found that the average carryover model experienced 133 PP100, while all-new or redesigned vehicles for the 2010 model year had 116 PP100; vehicles that received minor changes fared the best with just 111 PP100. The overall average for all makes was 126 PP100, which is the lowest figure since the findings were first issued in 1989.

For 2013, Lexus and Porsche remained in the top two spots, respectively (and each experienced fewer problems year over year), but there were plenty of shakeups elsewhere in the list. The biggest mover overall was Ram, which moved up 20 spots from one of the worst performers in 2012 to sitting pretty in the top 10. Other big positive movers include Mazda, Infiniti and Ford. On the opposite side of things, Scion dropped 13 spots, falling from the fifth-best score down to No. 18. Cadillac, Audi, Volvo and Mitsubishi were other makes that saw big drops in their dependability results.

In terms of dependability for individual models, Toyota products grabbed the top spot in seven of 18 vehicle segments and General Motors also performed well among its individual makes, being named most dependable in four categories. The total breakdown as well as the official press release are posted below.



2013 U.S. Vehicle Dependability Study

J.D. Power and Associates Reports:
Overall Vehicle Dependability Continues to Improve;
Dependability of All-New and Redesigned Models Surpasses Carryover Models

Toyota Motor Corporation Models Receive Seven Awards; General Motors Models Receive Four

WESTLAKE VILLAGE, Calif.: 13 February 2013 -- The long-term dependability of three-year-old models has improved year-over-year, according to the J.D. Power and Associates 2013 U.S. Vehicle Dependability StudySM (VDS) released today.

The study, now in its 24th year, measures problems experienced during the past 12 months by original owners of three-year-old vehicles (those that were introduced for the 2010 model year). Overall dependability is determined by the number of problems experienced per 100 vehicles (PP100), with a lower score reflecting higher quality.

Key Findings

-Vehicle dependability improves 5 percent year-over-year.
-Domestic nameplates narrow the dependability gap with import nameplates to 10 PP100.
-Toyota Motor Corporation models earn seven segment awards; General Motors garners four awards.

In 2013, the dependability of models that were new or substantially redesigned for the 2010 model year averages 116 PP100, compared with 133 PP100 for models that were unchanged from the 2009 model-year--also referred to as carryover models. This is the first year that there are fewer reported problems for all-new or redesigned models than for carryover models since the study was redesigned in 2009. Models that were refreshed in 2010--those with generally minor changes to the interior or exterior--average 111 PP100 in the 2013 VDS.

"There is a perception that all-new models, or models that undergo a major redesign, are more problematic than carryover models," said David Sargent, vice president of global automotive at J.D. Power and Associates. "Data from the 2013 VDS suggests that this is not the case. The rapid improvement in fundamental vehicle dependability each year is more than offsetting any initial glitches that all-new or redesigned models may have."

Overall Dependability Improves
In 2013, overall vehicle dependability averages 126 PP100--a five percent improvement from the 2012 average of 132 PP100--and is the lowest problem count since the inception of the study in 1989. Among brands measured in the study, 21 of the 31 improve in dependability from 2012. Domestic nameplates have improved in 2013 at a slightly greater rate than have imports, narrowing the dependability gap to 10 PP100 from 13 PP100 in 2012 and 18 PP100 in 2011. Overall, domestic nameplates average 133 PP100, while import nameplates average
123 PP100.

"The continuous improvement in long-term dependability means consumers should have more confidence in three-year-old vehicles, whether they are keeping their current vehicle or shopping for a used car, truck, crossover or SUV," said Sargent. "This means there are a lot of dependable off-lease vehicles in the used-vehicle market. It also means that owners who keep their vehicle beyond the manufacturer's warranty period are able to have greater peace of mind that vehicles are becoming increasingly more dependable. That said, it is virtually certain that new vehicles being sold today will be even more reliable in three years."

Dependability Equals Higher Loyalty
The study finds that the fewer problems owners experience with their vehicle, the greater their loyalty to the brand. Combining previous-year VDS results with actual vehicle trade-in data from the J.D. Power and Associates Power Information Network(R) (PIN), J.D. Power finds that 54 percent of owners who do not experience any problems with their vehicle stay with the same brand when they purchase their next new vehicle. Brand loyalty slips to just 41 percent, on average, when owners experience three or more problems with their vehicle.

While owners of premium models are more loyal than owners of non-premium models, on average, the loyalty of premium model owners is more impacted by an increase in the number of problems experienced. For example, 55 percent of owners of premium models remain loyal to the brand when they report zero problems with their vehicle, compared with 53 percent of owners of non-premium models who report zero problems. Loyalty begins to decline as soon as the owner experiences any problems with their vehicle. When experiencing three or more problems with their vehicle, loyalty among owners of premium models declines to 39 percent and 41 percent among owners of non-premium models.

"It's one thing to ask consumers if they intend to buy another vehicle from the same brand, but it is much more impactful to know what happens when they actually buy their next vehicle," said Sargent. "By combining our consumer research with trade-in data, we see a clear correlation between dependability and loyalty."

Highest-Ranked Nameplates and Models
Lexus ranks highest in vehicle dependability among all nameplates for a second consecutive year. Among models, the Lexus RX has the fewest reported problems in the industry at just 57 PP100. This is the first time in the history of the VDS that a crossover or SUV has achieved this distinction. Rounding out the five highest-ranked nameplates are Porsche, Lincoln, Toyota and Mercedes-Benz. Chrysler Group LLC's Ram brand posts the greatest year-over-year improvement from 2012--by 52 PP100.

Toyota Motor Corporation continues to perform well in long-term dependability and earns seven segment awards--more than any other automaker in 2013--for the Lexus ES 350; Lexus RX; Scion xB; Scion xD; Toyota Prius; Toyota Sienna; and Toyota RAV4.

General Motors receives four segment awards for the Buick Lucerne; Chevrolet Camaro; Chevrolet Tahoe; and GMC Sierra HD. American Honda Motor Corp., Inc., receives two model-level awards for the Acura RDX and Honda Crosstour. The Audi A6, Ford Ranger, Hyundai Sonata, Mazda MX-5 Miata, and Nissan Z also receive segment awards.

J.D. Power and Associates offers the following tips for consumers regarding vehicle dependability:

The perception that all-new or redesigned models can't be as dependable as those that have been on the market for a year or more is not accurate. Just because a model is new to the market or has been recently redesigned doesn't necessarily mean it won't be as reliable. In fact, dependability of all-new and redesigned models is at a record high, according to 2013 VDS data.
Dependability of three-year-old models is at an all-time high. If you can't afford a new vehicle, or simply don't want one, you should feel confident when buying a certified pre-owned (CPO) vehicle. Whether buying a CPO vehicle or not, be sure to check quality, appeal and dependability ratings of models you are considering on jdpower.com.

Improvements in vehicle dependability have been made by both domestic and import brands, and the gap between the two is narrowing. Perceptions of dependability should not be based purely on vehicle origin--consumers should research a variety of sources in order to make a decision consistent with the current reality of the market.

The Vehicle Dependability Study is used extensively by vehicle manufacturers worldwide to help design and build higher-quality models, which typically translates to higher resale values and higher customer loyalty. It also helps consumers make more informed choices for both new- and used-vehicle purchases.

The 2013 Vehicle Dependability Study is based on responses from more than 37,000 original owners of 2010 model-year vehicles after three years of ownership. The study was fielded between October and December 2012.

Find more detailed information on vehicle dependability, as well as model photos and specifications, by reading articles and reviewing brand and segment dependability ratings at http://www.jdpower.com/dependability

About J.D. Power and Associates
Headquartered in Westlake Village, Calif., J.D. Power and Associates is a global marketing information services company providing forecasting, performance improvement, social media and customer satisfaction insights and solutions. The company's quality and satisfaction measurements are based on responses from millions of consumers annually. For more information on car reviews and ratings, car insurance, health insurance, cell phone ratings, and more, please visit JDPower.com. J.D. Power and Associates is a business unit of The McGraw-Hill Companies.

About The McGraw-Hill Companies
The McGraw-Hill Companies (NYSE: MHP), a financial intelligence and education company, signed an agreement to sell its McGraw-Hill Education business to investment funds affiliated with Apollo Global Management, LLC in November 2012. Following the sale closing, expected in early 2013, the Company will be renamed McGraw Hill Financial (subject to shareholder approval) and will be a powerhouse in benchmarks, content and analytics for the global capital and commodity markets. The Company's leading brands will include: Standard & Poor's, S&P Capital IQ, S&P Dow Jones Indices, Platts, Crisil, J.D. Power and Associates, McGraw-Hill Construction and Aviation Week. The Company will have approximately 17,000 employees in more than 30 countries.
---
By Jeffrey N. Ross
---
See also: Toyota GT86 engineer Tada recounts how sports car came to be, Porsche celebrates 50 years of 911 with some excellent pics, Mazda and Lexus crowned with KBB 5-Year Cost To Own awards.