Infiniti's new Design Director is American Alfonso Albaisa
Fri, 10 May 2013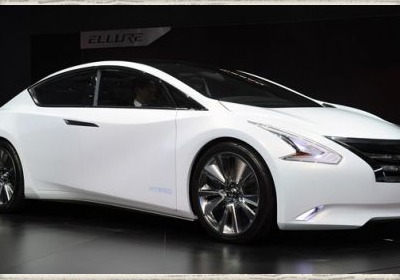 The man responsible for creating the sleek 2010 Nissan Ellure Concept you see above is now the design director for Infiniti. Alfonso Albaisa (shown at right) has been a member of the Nissan design team for 25 years, but was recently promoted to executive design director for the Infiniti brand.

His past roles at Nissan have included design director for Nissan from 2004 to 2007, vice president of Nissan Design Europe from 2007 to 2011, vice president of Nissan Design America in 2011 and, most recently, he held the title of Nissan's global design director. Aside from Ellure, Albaisa was also responsible for designing the 2012 Nissan Xtrem Concept, "key strategic production vehicles soon to be launched" and he's even contributed to a handful of Infiniti designs. Scroll down for the official press release.

Alfonso Albaisa Named Executive Design Director for Infiniti

HONG KONG - Alfonso Albaisa (48) has been appointed Executive Design Director for Infiniti, effective April 1, 2013. Albaisa will be leading the global Infiniti Design team and be responsible for further developing the design of all future Infiniti vehicles and concept cars. He will be based at the company's Design Center in Atsugi, Japan.

"We continue to set up Infiniti for further growth in the premium segment," said Johan de Nysschen, President of Infiniti Motor Company Ltd. "Design will play a pivotal role in our quest to nurture the brand and grow the business."

Albaisa is a passionate and seasoned automotive designer with 25 years of experience. "Alfonso is a great fit for Infiniti," said Shiro Nakamura, Chief Creative Officer. "He is a brand visionary who has the passion and drive to translate his progressive thinking into exciting designs with global appeal."


Albaisa joined the Nissan Design team in San Diego, CA, in 1988. From 1997, he held a number of senior Design positions within Nissan leading up to his appointment as Design Director, Nissan Design America, in 2004. In 2007, he was appointed Vice President of Nissan Design Europe. Upon his 2011 return to the US as Vice President, Nissan Design America, he led the design of the Nissan Ellure and Xtrem concept cars as well as key strategic production vehicles soon to be launched. He also played a key role in the design of several Infiniti models. In 2012, Albaisa was named Design Director of Nissan global Design, Nissan brand passenger cars, including Zero Emission Vehicles. In this global role, he was responsible to map out and implement Nissan's future design strategies.

Albaisa is a Cuban American who descends from a highly design- and architecture-minded family. He graduated from Pratt Institute in New York in 1988 and also attended the Center for Creative Studies in Detroit, MI.

About Infiniti:

Infiniti, the premium automotive brand, reflects its brand promise "Inspired Performance" with a model line-up of saloons, coupés, SUVs and crossovers featuring exhilarating performance, emotive design and cutting edge technology. Infiniti continues to launch across the globe through a dedicated network of Infiniti Centres that share a commitment to exceptional hospitality throughout the entire period of ownership.

Infiniti was launched in 1989 in the United States. Infiniti's global footprint expanded into Canada in 1990, Taiwan in 1997, the Middle East in 2004, Korea in 2005 and Russia in 2006. Global expansion continued in 2007 with Infiniti Centres opening in the Ukraine and in one of the world's fastest growing luxury automotive markets, China. In 2008 Infiniti launched in Western and Central Europe which has added 19 additional markets. Infiniti is sold globally in 47 markets to date.

Since May 2012, Infiniti Motor Company Ltd.'s new global headquarters is situated in Hong Kong, headed by Johan de Nysschen as President of Infiniti.

Since the 2011 season Infiniti has been a major partner of the Red Bull Racing Formula One team. The team will be known as Infiniti Red Bull Racing from the 2013 season as the relationship evolves to make Infiniti the title partner and lead technical partner with a shared engineering expertise that delivers benefits for the race track and the road. Earlier this year, three-time world champion Sebastian Vettel was appointed Infiniti's Director of Performance.
---
By Jeffrey N. Ross
---
See also: What does a world-class downhill skateboarder drive? Something very cool, Nissan GT-R drag races Swiss fighter jet, 2013 Nissan Juke Nismo.