Infiniti announces pricing for 2014 QX60 and QX70
Tue, 23 Jul 2013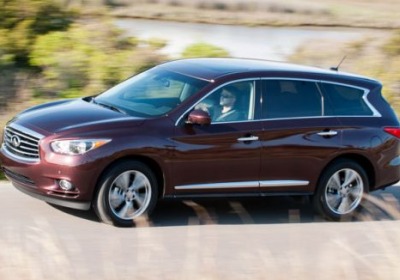 With the exception of the G37, customers walking into Infiniti showrooms this summer are going to see a bunch of different names pop up as the automaker switches to its new Q-for-car and QX-for-crossover/SUV naming convention for 2014. The first of these renamed models are the 2014 QX60 (which replaces the JX) starting at $41,550* and the 2014 QX70 (which replaces the FX) priced at $44,950* (*prices do not include $995 for destination), and both are on sale now.

Compared to the outgoing models, the new QX60 (seen above, click to enlarge) lineup starts $300 more than the outgoing JX models (base and AWD), while pricing for the QX70 will remain the same as the trio of 2013 FX models (FX37, FX37 AWD and FX50). What is still unclear is how much the all-new QX60 Hybrid model will cost or how much option and package pricing will change, if any. Scroll down for more info on the new QX60 and QX70 crossovers.

Show full PR text
Infiniti Announces U.S. Pricing for 2014 QX70 Performance Crossover and 2014 QX60 Luxury Crossover

NASHVILLE, Tenn. – Infiniti today announced U.S. pricing on the 2014 Infiniti QX70 and QX60, which are on sale now at Infiniti dealers nationwide. Starting Manufacturer's Suggested Retail Prices (MSRP)* for the QX70 (formerly known as the Infiniti FX) remain unchanged from the 2013 models, while prices for the QX60 (formerly known as the Infiniti JX) increase just $300 USD.

2014 Infiniti QX70
Infiniti's iconic performance crossover embodies all things Infiniti – premium design and craftsmanship, relevant performance, innovative technology and unrivalled Japanese hospitality. That continues in the 2014 model year with a range of three well-equipped QX70 models that once again prove that luxury doesn't have to be dull – in look, interior indulgences or the driving experience.

The Manufacturer's Suggested Retail Prices (MSRP)* for the 2014 Infiniti QX70 are:
Model Engine/Drive MSRP
QX70 3.7 3.7-liter V6 / RWD $44,950 USD
QX70 3.7 AWD 3.7-liter V6 / AWD $46,400 USD
QX70 5.0 AWD 5.0-liter V8 / AWD $61,500 USD

Destination and Handling $995 USD

2014 Infiniti QX60
The popular Infiniti QX60 luxury crossover receives a new Hybrid powertrain later in the 2014 model year. It will be available in two models – QX60 Hybrid and QX60 Hybrid Premium in FWD and AWD configurations. Pricing for QX60 Hybrid models will be announced at a later date.

A number of other enhancements are offered for 2014 QX60 3.5-liter models, including splitting the previous Premium Package into Premium and Premium Plus Packages and the addition of power up-folding 3rd row seats to the Deluxe Touring Package. An auto-dimming inside mirror with HomeLink® Universal Transceiver is now standard on all models. The Manufacturer's Suggested Retail Prices (MSRP)* for the 2014 Infiniti QX60 are:
Model Engine/Drive MSRP
QX60 3.5-liter V6 / FWD $41,550 USD
QX60 AWD 3.5-liter V6 / AWD $42,950 USD

Destination and Handling $995 USD

About Infiniti:
Infiniti Motor Company Ltd. is headquartered in Hong Kong with sales operations in approximately 50 countries. The Infiniti brand was launched in 1989. Its range of premium automobiles is currently built in manufacturing facilities in Japan and the United States. Production in China and Europe will start soon along with the expansion of the brand's portfolio.

As the Title Partner and Vehicle Performance Partner of Infiniti Red Bull Racing, Infiniti has a far-reaching technical collaboration with the Formula One team, and Sebastian Vettel, its triple World Champion driver, serves as Infiniti's Director of Performance.

More information about Infiniti, its Total Ownership Experience® and its industry leading technologies can be found at www.infinitiusa.com. For the latest news on Infiniti, visit www.infinitinews.com, "like" Infiniti on Facebook or follow the brand on Twitter @InfinitiUSA.
---
By Jeffrey N. Ross
---
See also: Infiniti G37 to live on in showrooms alongside 2014 Q50, 2014 Infiniti Q50 sees 3,650 pre-sales ahead of Aug. 5 debut, Infiniti EV delayed to add better tech.