Infiniti Q50 Eau Rouge revealed ahead of Detroit
Thu, 02 Jan 2014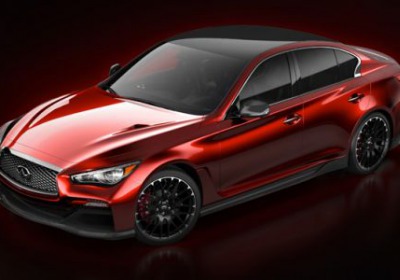 As fast as Infiniti is on the track with its sponsored Formula One racecar, the automaker sure is taking its time releasing details for the Q50 Eau Rouge Concept. This performance- and aero-tuned version of the Q50 sedan is heading for a big debut at the Detroit Auto Show, and Infiniti just released a new image and some more info on what we can only hope is a glimpse at future Infiniti Performance Line (IPL) products.

Influenced by the Red Bull Racing program, Infiniti's design team gave the Q50 a substantial once over with the concept getting an entirely new body compared to the production version of the luxury sedan making it both lower and wider. Previewed by an earlier teaser, the face of the Q50 Eau Rouge Concept has a mean look with massive intakes and a carbon fiber splitter. This new image also shows off additional cues like the lightweight, 21-inch wheels as well as the carbon fiber roof, side sills and door mirrors. While we only get this single image of the Q50 Eau Rouge Concept, Infiniti promises a carbon fiber rear splitter, dual exhaust and a "large integrated rear spoiler."

There is still no word on what handling or engine upgrades are in store, but hopefully those GT-R-inspired hood vents are only a hint at something monstrous lurking beneath the hood. Check out the full press release posted below for a few more details on the car, but we expect Infiniti to drop some more info on the Eau Rouge Concept before its official debut.

-Q50 Eau Rouge represents design vision for high-performance products
-Design of Q50 Eau Rouge features dramatic aerodynamic styling influenced by Infiniti's involvement in Formula One
-Q50 Eau Rouge features complex carbon composite bodywork

Hong Kong - Infiniti has revealed the first image of the Q50 Eau Rouge concept which will have its world premiere at the 2014 North American International Auto Show in Detroit on January 13.

The Q50 Eau Rouge, a high-performance design concept based on Infiniti's Q50 premium sports sedan, draws inspiration for aerodynamic design from the technical collaboration between Infiniti and four-time Formula One World Champions Infiniti Red Bull Racing.


Major bodywork components have been redesigned with aerodynamics in mind and manufactured carbon fiber. Q50 Eau Rouge is lower and wider - only the roof and door profiles remain unchanged from the production Q50. This striking design is inspired by muscularity, refinement, and understated performance intent.

Infiniti Q50 Eau Rouge highlights include deep and detailed carbon fiber front splitter, rear diffuser and side sill skirts; carbon fiber roof and door mirror casings; 21-inch lightweight forged alloy wheels; and a dual-exit exhaust sports system below a large integrated rear spoiler.

The Infiniti design team, led by Executive Design Director Alfonso Albaisa, was influenced by the aerodynamic styling approach taken by their colleagues at Infiniti Red Bull Racing.

"From our shared passion for performance with Infiniti Red Bull Racing grew a collective desire to produce a vision of what a high-performance Infiniti Q50 could look like," said Albaisa.

"The design has a number of distinctive Formula One inspired touches. In particular, the sculpted front wing assembly and the rear aerodynamic packaging take their cues from the RB9 race car," added Albaisa.

Infiniti is also empowering social fans to unveil the all-new Q50 Eau Rouge concept car ahead of the official launch at the Detroit Motor Show on January 13. Starting from today, online advocates can drive the reveal of Infiniti's latest concept car. By sharing their views and comments through social media channels like Twitter (hashtag #F1Q50), Facebook and Weibo, fans will build the image of the concept in a virtual garage. Each "share" will help build individual Q50 components, and as more fans share, the quicker the car will be "built." Progress can be viewed on unveil.infiniti.com.

More information about the Q50 Eau Rouge will be revealed during a press conference at the North American International Auto Show at 9:20 a.m. ET on January 14.
---
By Jeffrey N. Ross
---
See also: Infiniti keeps us on our toes for Q50 Eau Rouge, 2014 Infiniti Q50's novel drive-by-wire steering system recalled, Infiniti Q50 Eau Rouge racing toward Detroit with Red Bull in its veins.