Indian kids joyride in Ferrari F430
Thu, 11 Apr 2013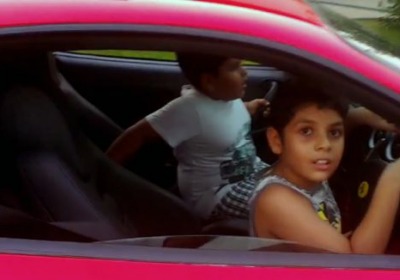 Cars and kids. A lot more people out there have both when they should probably have neither, and this is apparent with this latest video coming out of India. While we can't say for sure who these kids and this car beautiful Ferrari F430 belong to, it's at least the worst display of adult supervision we've seen since last month when two Russian parents let their 8-year-old daughter drive an Audi on snow- and ice-slicked roads.


A young boy who can barely reach the pedals drives up and down the public road with an equally young passenger drive the Ferrari while two adults (Dad of the Year behind the camera?) record the whole event. It seems almost silly to point out, but neither of the juveniles appear to have their seat belts on, as well. As bad as this person's decision making skills are to let a kid drive a car under these conditions, though, his video recording abilities are even worse. Scroll down to check out the video for yourself.



---
By Jeffrey N. Ross
---
See also: Ferrari F50s duel in world's most improbable tug-of-war, Ecclestone wonders if F1's upcoming turbo V6s should get augmented sound [w/videos], LaFerrari 3D model adds depth to Maranello's new supercar.