How and why Ford is rolling out Vignale in Europe
Wed, 09 Oct 2013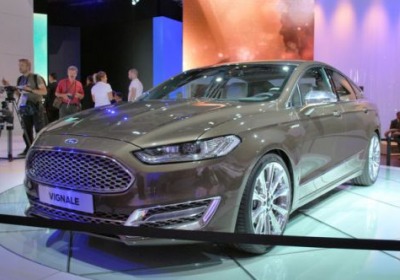 We know that Ford is positioning the new, upscale Vignale brand in Europe to fill a niche market of customers who want a bit more luxury, a lot more service and the same reliability and dependability that a non-Vignale Ford offers. But so far, we've been in the dark regarding how the Blue Oval will sell Vignale vehicles, how many of them will be created, and what the new sub-brand has in store for the future.

Gaetano Thorel, Ford's European marketing head, recently was interviewed by Automotive News and shared details about Ford Vignale. Thorel says, "The Vignale trim line will be priced like an ST model but attract a completely different type of customer." Specifically, he says it will attract customers in the upper 15 percent of the price band who don't want a performance-oriented ST model. He adds that Vignale cars will be about 10 percent more expensive than Titanium-trim cars. About 500 of Ford's European dealers will sell Vignale Fords, Thorel says, "in areas that make sense." The automaker expects 10 percent of its European sales to be Vignale cars, which equates to about 5 percent of its global sales. When asked if there are any other Vignale models planned beyond the Mondeo, Thorel said, "There is nothing written in stone yet."

Instead of tuning the engine, brakes and suspension for max performance, like Ford does with its ST line, a Vignale will grace occupants with luxurious attributes that are exclusive to the brand, "such as the unique chrome detailing, the exclusive leather-quilted seats and dashboard, a unique exterior color and all of Ford's latest infotainment technologies," Thorel says.

But the material gains aren't everything. Paying for a Vignale privileges customers with an encompassing, special ownership experience, which has been said to include free car washes for the life of the car. Thorel doesn't confirm the free car washes, unfortunately, but does say this "is in our plans." He goes on to say that a crucial part of owning a Vignale Ford is that customers will have a single dealership contact to help them deal with product and service needs.

European customers can start looking for the Mondeo VIgnale in participating dealerships when it launches in about 18 months.
---
By Damon Lowney
---
See also: Ford recalling nearly 24,000 Focus EV and C-Max models over door chime, Why Ford's Alan Mulally would be right for Microsoft, or any company, Ford EcoBoost V6 hits the dyno before hitting the track.