Hot Wheels Ford Transit Connect is worth more if we keep it in the box
Wed, 06 Nov 2013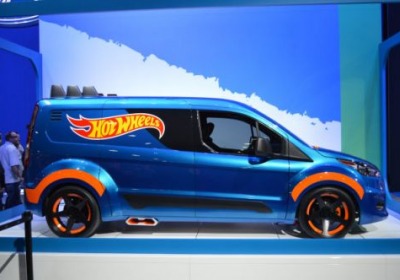 If the 2014 Transit Connect is anything like it's utile current-generation predecessor, and we suspect it is, it will undoubtedly be one of the most functional vehicles in North America. Ford has used the occasion of SEMA to turn the TC in to things that both make use of that functionality, and occasionally sort of wreck it in the name of good old-fashioned fun. The Ford Hot Wheels Transit Connect most certainly falls into that second category.

Most TC owners might cite the vehicle's massive cargo capacity as its top positive trait, though in the case of this wide-bodied Transit said space has been sapped in the name of a 55-inch television screen, a massive Hot Wheels drag strip (continuing a popular theme at SEMA this year) and custom storage for dozens of models from one's personal hot wheels collection. Designers have also plucked the grippy Recaro seats from the Focus ST, and thrown in a pair of 18-inch tablet screens for connectivity on the go.

Naturally, the Transit Connect wouldn't be an appropriate SEMA vehicle, or Hot Wheels name-bearer, if it weren't wearing an eye-popping appearance package. Additional homage to the Focus RS can be found in the blazing blue and orange front fascia and bumpers, while 20-inch wheels make sure the wider (four-inches in front and six-inches in the back) Transit Connect sits just right. The 2.5-liter four-cylinder-engine that powers the Hot Wheels TC ensures that the concept is more show than go, but you probably had that pegged from your first look, anyway.

Scroll down to read all of the details about Ford's toy-like show car, in the press release below.

2014 FORD TRANSIT CONNECT GETS SIZZLING NEW LOOK COURTESY OF HOT WHEELS FOR SEMA
A Ford Transit Connect cargo van becomes the ultimate fantasy ride that any kid – big or small – would want to drive, courtesy of Hot Wheels®
The Hot Wheels® Transit Connect is loaded with custom features inside and out, including two 18-inch tablets, a 55-inch television screen, gullwing doors and a built-in Hot Wheels® drag strip
With a maximum towing capacity of 2,000 pounds, the Hot Wheels® Transit Connect is the perfect vehicle to haul the Ford 1.0-liter EcoBoost®-powered custom Rip Rod™
Ford Motor Company's 2014 Transit Connect is tearing up the Las Vegas Strip with a sizzling new look courtesy of Hot Wheels®.

The Hot Wheels® concept of the Transit Connect cargo van, unveiled today at the 2013 Specialty Equipment Market Association show in Las Vegas, has been transformed from a versatile people mover to a race-ready hauling machine that any kid – big or small – would want.

The Hot Wheels® brand, which has produced more than 4 billion toy cars since it was introduced by Mattel in 1968, unveiled its first life-size car in 2001 at SEMA.


"The Hot Wheels design team jumped at the chance to hot rod a Transit Connect van," said Felix Holst, vice president of creative for Mattel Wheels Division. "The idea was to create a race-inspired support vehicle for the average guy to spend a weekend at the track testing his Hot Wheels race car."

"The Hot Wheels Transit Connect features an entirely custom, euro-look wide body kit, Rotiform ROC wheels, sleeping quarters and tool storage for living the dream that most of us had playing with Hot Wheels as a child," Holst added. "It even has slide-out drawers to keep your favorite Hot Wheels cars with you at all times."

For this job, Michigan-based custom builder Ice 9 Group worked with designers from Ford and Hot Wheels®, taking a Transit Connect down to its basic elements and rebuilding it from the ground up, creating a one-of-a-kind dream machine.

"We basically reskinned a new vehicle," said Keith Strong, president of Ice 9 Group. "We did all the computer-aided drafting and tooling, removing the old body panels and crafting a whole new look. Every single aspect of the exterior is different, including the roof. The idea was to show just how far out you can take a vehicle like this – a small van – that isn't typically thought of when you go to SEMA."

The Hot Wheels® Transit Connect, powered by a 2.5-liter Ti-VCT four-cylinder engine, has been widened 4 inches in front and 6 inches at the rear. It features functional custom exhaust ports on either side, gullwing doors in place of the sliding doors, new front fascia and bumpers inspired by Focus RS, and custom 20-inch wheels.

The interior of the Hot Wheels® Transit Connect has also been customized, with a Sortimo® secondary floor installed covering a set of drawers for tool storage, a 55-inch television screen, two 18-inch tablets and custom Recaro® seats from a Focus ST.

The tablets are installed in the rear doors. The television screen is installed in a bulkhead behind the front seats. Two Hot Wheels® orange tracks are recessed in the bed, forming a drag strip right down the center of the van.

Making use of Transit Connect's towing capability, a custom trailer is hitched up to carry Rip Rod™, which is powered by a 1.0-liter EcoBoost® engine. Rip Rod™ was designed and built by Hot Wheels® in 2012.

Fans will get a chance to have their own Hot Wheels® Transit Connect in the form of a 1:64 die-cast scale model when it arrives on store shelves in fall 2014.

The Hot Wheels® Transit Connect is one of 10 custom Transit Connect vehicles Ford is featuring at this year's SEMA show. Ford Transit Connect, named International Van of the Year 2014, launches as two distinct models – the traditional, hard-working cargo van, a panel-side hauler; and Transit Connect Wagon, a stylish, spacious and fuel-efficient people mover. The new Transit Connect vehicles will be in showrooms in early 2014.
---
By Seyth Miersma
---
See also: Chip Ganassi Racing switches to the Ford EcoBoost-powered Riley Daytona Prototype, Ford jumps back in the water with marinized 6.2L V8, Ford F-100 'Snakebit' shown off by Gene Simmons and Shannon Tweed at SEMA.