Holy crime-fighting Ford F-150, Batman!
Thu, 18 Jul 2013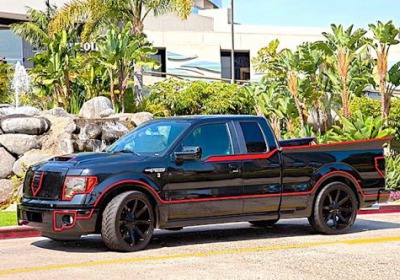 What would Batman drive for his weekly trips to Home Depot for the bits and pieces needed to keep his lair deep below Wayne Manor in tip-top condition? Certainly not the Batmobile – there's no way a 4x8 sheet of plywood will fit between the wheel wells, not to mention the fact that jet turbine engines have an unfortunate tendency to set trailers on fire when towing...

No, what Batman needs is a pickup truck. The boys from Ford teamed up with Galpin Auto Sports to build just such a machine, and it has just debuted at Comic Con. Designed by Jared Barris, grandson of the legendary kustomizer George Barris, the 2012 F-150 pickup you see here, dubbed Crime Fighter, is painted Tuxedo Black with Ferrari Red highlights and is affixed with fins on each side of the truck bed. It's nothing if not unique.

Well, it's at least unique for now. According to Ford, Galpin in Southern California is willing to take orders for customers looking to don a cape and hit the town for a night of crime-fighting action. Or trips to Home Depot. Check out our high-res image gallery and then scroll down for the official description from Ford. We're waiting for details such as pricing and build time from Ford, and we'll update this post if and when we hear back.

CRIMEFIGHTER FORD F-150 IS A TRIBUTE TO THE ORIGINAL BATMOBILE

Back in 1965, George Barris built the iconic first Batmobile using parts he found at a hardware store and the body of a Ford Futura concept car. The Batmobile made Barris a legend among custom car designers and in January 2013 it was auctioned for a cool $4.2 million.

In light of the auction, Barris's grandson, Jared, wanted to create a tribute to his grandfather's Batmobile. What he designed is a Batmobile, or rather a Bat Truck, for the 21st century.

Dubbed "The Crimefighter," the truck is a 2012 Ford F-150 customized by Galpin Auto Sports with a tuxedo black paint job and Ferrari red accents that create a look much like that of the original Batmobile. The bed of the Crimefighter has even been adorned with fins. It's powered by a Ford 5.0-liter V8.

The cool thing about the Crimefighter? Galpin Auto Sports in Southern California is taking orders on the custom truck, so you can feel like Batman too.
---
By Jeremy Korzeniewski
---
See also: First 1K next-gen Mustangs to carry 2014 1/2 model year?, Ford tops mid-year ranking of brands in the US, Ford hybrids getting update to improve fuel economy.