Highlights from the Goodwood Festival of Speed, including the McLaren P1 and a Ford Transit running the hill
Mon, 15 Jul 2013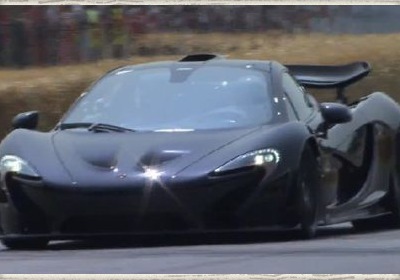 The sole purpose of this post is as a time-waster, and since you shouldn't have to work to waste time, we've done it for you. In the numerous videos below you'll find cars that have lately been in the news tramping all over the grounds of Lord March's estate in Goodwood, England.

There's the McLaren P1 heading up the hill, the Jaguar Project 7, then a casually-driven Porsche 917 followed by an even-more-casually-driven Porsche 956, topped off by a Porsche 936 that is anything but casually driven. The next round is the flame-spitting Peugeot 405 T16 Pikes Peak from Climb Dance, a camera mounted on the Peugeot RCZ R after it showing you what the whole, uninterrupted run up the hill looks like. For a real head-turner, we couldn't embed it but there's Andy Reid blasting up the hill in a Ford Transit Supervan with a Cosworth 3000 V6 engine.

The modern racing contingent has Allan McNish doing the hill in the Audi R18 e-tron quattro he used to win Le Mans and Lewis Hamilton making lots of tire smoke in the Mercedes-AMG Petronas MGP-W02. For comparison, that's followed by Nick Heidfeld's record-setting run up the hill in 1999 in the McLaren MP4/14 . The classic racing contingent is headlined by 71-year-old Giacomo Agostini on an MV Agusta.

Finally, there are the miscellaneous exhaust notes of all kinds of supercars headed to the start for the supercar run. You'll find it all below. Enjoy.






































---
By Jonathon Ramsey
---
See also: Mercedes-Benz S63 AMG officially teased in mini video, Firing of M-B boss upheld, BMW expects China to pass US as its top market in 2013.