Hennessey completes first VelociRaptor SUV conversion [w/video]
Mon, 20 May 2013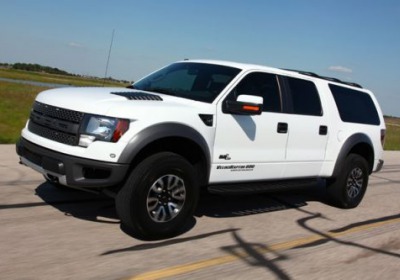 Start with a Ford F-150 SVT Raptor as your base vehicle for modification, and chances are high that you'll end up with something pretty cool. Now, have those modifications done by professional lunatics Hennessey Performance, make the project turning the pickup into an ultra-long SUV, and the result stands a real chance of being a total kick in the ass. Let us present the Hennessey VelociRaptor then, in all of its awesomeness.

Hennessey has taken care in grafting a "Expedition style" rear cabin onto the Raptor, complete with an optional third row. The pictures we have show a cabin that's up to the fit and finish standards of the original Ford truck, too. The cab added over the bed also makes room for a massive load space out back, accessible via split out-folding doors and long enough for a person to lay down in (see video).

Mechanically, the truck-turned-SUV sticks with Ford's stock 6.2-liter V8, rated at 411 horsepower, or can be had with a supercharger and some 600 hp. Hennessey says the stock-motor VelociRaptor will run from 0-60 miles per hour in 7.5 seconds, while the hi-po version takes just 5.9 seconds. The SUV does take some of the off-road ability away from the Raptor, with the company saying it hasn't yet had the opportunity to test its capabilities. On-roading and "moderate off-road duties" are the current prescription.

Hennessey will build just 30 copies of the VelociRaptor per year, offered at a starting price of $149,500. If that seems like an absorbent markup over the Raptor's $43,920, well, you're welcome to go out and build your own. Scroll down for a video walk around of the VelociRaptor, and one showing the supercharged version on a dyno.





Introducing the Hennessey® VelociRaptor® SUV

SEALY, Texas – Hennessey Performance (HPE) has announced that it is offering its VelociRaptor SUV conversion. Based on the Ford F-150 Raptor, the team from HPE transforms SVT's super crew cab pick-up truck into a full-sized sport-utility vehicle (SUV) with seating for up to 8 people.

"Over the past three years we have built nearly 400 upgraded Raptor trucks for enthusiasts around the world", said Don Goldman, CEO of Hennessey Performance. "We are now very excited to be able to offer the VelociRaptor SUV to those who like the Raptor but want more seats and space."

All of the factory Ford Raptor truck components and systems are kept in tact. At this time, Hennessey Performance has not yet had an opportunity to test the off-road capabilities of the VelociRaptor SUV. Thus, the company suggests that buyers should intend using this vehicle for on-road as well as light to moderate off-road duties. "Don't plan on pre-running Baja or negotiating Rubicon with our SUV – that is not why we built it", said company founder, John Hennessey. But, if you're looking for the ultimate vehicle to drive from Aspen to Telluride in January, the VelociRaptor SUV would be perfect."

The VelociRaptor SUV base price is $149,500 and production is going to be limited to just 30 units per year. The same 6.2L 411 bhp Ford V8 powers the entry level SUV while Hennessey also offers their VelociRaptor 600 Supercharged upgrade at an additional cost. Other optional upgrades include: Brembo front brake upgrade, larger wheels and tires, LED lighting upgrades, bespoke interior and electronic upgrades. Security and armoring systems are also available.

While vehicle weight is increased by approximately 600 lbs, the standard 411 bhp SUV is able to achieve 0-60 mph times of 7.5 seconds. Bumping power to 600 bhp with the VelociRaptor 600 Supercharged upgrade will drop the 0-60 mph time to 5.9 seconds. AMG G-Wagon and Range Rover owners beware.

The Hennessey VelociRaptor SUV can be ordered directly from Hennessey Performance or through select Hennessey / Ford dealers.
---
By Seyth Miersma
---
See also: Ford Fiesta ST orders off to strong start, 2014 Ford Mustang GT, Project Ugly Horse: Part VIII.