GM investing $167m in Spring Hill for new midsize vehicles
Tue, 06 Aug 2013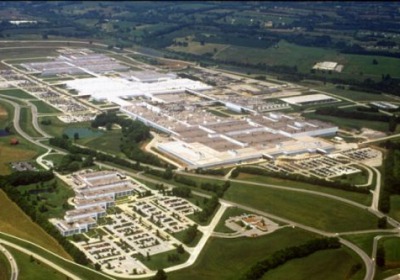 General Motors has announced a large investment in its Spring Hill, Tennessee facility. The former home of Saturn production will be getting a $167 million addition to a previously announced $183 million, to cover a pair of new midsize vehicles. The investment is expected to create 1,800 jobs at the factory.

That $350 million is being divvied up for a pair of programs at Spring Hill. The first will take the bulk of the money ($223 million) and create 1,000 of the 1,800 jobs, while the other will take the remaining $127 million and generate the leftover 800 positions. But GM says the investment will cover "midsize vehicle programs." So what could they be?

The leading candidate in our minds is a new crossover for Buick, called the Anthem, that will slot between the Encore and Enclave, but will be slightly smaller than the Equinox and Terrain. As we've explained, the new model will likely be the first product to sport GM's new D2UX platform, which will eventually replace both the Delta and Theta platforms. Spring Hill is already building the Equinox, so there could be some credence to this theory.

As for the other project, well, that one is a bit more of a mystery. It seems unlikely that GM would earmark two separate funds for "midsize vehicles" only to build a pair of crossovers. Could there be a D2UX car in the works? Hopefully, we'll find out soon.


GM Invests $167 Million in Spring Hill for New Vehicles

Spending for new vehicles rises to $350 million, creating or retaining 1,800 jobs

2013-08-06

SPRING HILL, Tenn. – General Motors today increased to $350 million planned spending for new vehicles to be produced at its Spring Hill assembly plant. The new investment adds $167 million to a previously announced $183 million pledge and is expected to create or retain about 1,800 jobs.


The new investment is for two projects:

An additional $40 million added to the earlier announced $183 million investment to support a future mid-size vehicle program, bringing the new total investment to $223 million. This program is expected to create or retain approximately 1,000 jobs.

A second mid-size vehicle program with an investment of $127 million that will create or retain approximately 800 jobs.
Timing and product specifications for both programs will be shared closer to start-of-production.

The new programs will add to existing manufacturing operations at the site that include vehicle assembly, stamping, engine and component parts production.

"Today's announcement recognizes the commitment of Spring Hill employees and leadership," said Mark Reuss, president, GM North America. "As a team, they draw upon the plant's unique heritage and dedicated work force to deliver top quality for our customers."

Located 40 miles south of Nashville, GM Spring Hill Manufacturing operates as a flexible-assembly plant, capable of building a variety of products on a range of platforms. The facility is designed to supplement production for plants being retooled for new products or add production to meet sales spikes in real time.

Chevrolet Equinox production began at the site in the third quarter of 2012 to meet growing consumer demand and support GM's Canada operations. GM Spring Hill Manufacturing, home to the former Saturn brand from 1990 to 2007, operates as a fully integrated complex.

"I would like to thank General Motors for its confidence that the highly skilled members of UAW Local 1853 can successfully build mid-size vehicles with high quality here at Spring Hill," said UAW Vice President Joe Ashton, who directs the union's GM Department. "The hard work and dedication of our members once again proves that we can competitively manufacture vehicles for the future right here in Tennessee."
About General Motors Co.

General Motors Co. (NYSE:GM, TSX: GMM) and its partners produce vehicles in 30 countries, and the company has leadership positions in the world's largest and fastest-growing automotive markets. GM, its subsidiaries and joint venture entities sell vehicles under the Chevrolet, Cadillac, Baojun, Buick, GMC, Holden, Isuzu, Jiefang, Opel, Vauxhall and Wuling brands. More information on the company and its subsidiaries, including OnStar, a global leader in vehicle safety, security and information services, can be found at http://www.gm.com.
---
By Brandon Turkus
---
See also: Buick struggling to keep up with Encore demand, GM execs fired over fraudulent India emissions testing, 2014 Buick LaCrosse.