Four Wheeler crowns Ultimate Factory 4x4... who wins?
Thu, 15 Nov 2012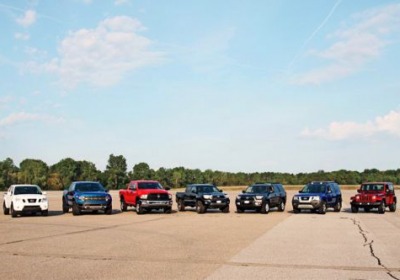 Nearly every automaker doing business in the SUV or pickup truck segments offers a package designed to improve the off-road capabilities of its wares. But, of course, not all such factory kits are created equal. How, then, to separate the wheat from the chaff? Gather each of them up and put them through their paces, naturally.

The folks from Four Wheeler and PickupTrucks.com joined forces to run just such a comparison test, with the winner named the Ultimate Factory 4x4. A total of seven vehicles showed up to the fight: the 2012 Ford F-150 SVT Raptor, 2013 Jeep Wrangler Rubicon, 2012 Nissan Frontier PRO-4X and Xterra PRO-4X, 2012 Ram Power Wagon, and 2012 Toyota 4Runner Trail and Tacoma TRD T|X Baja Series.


With the contestants in place, the whole crew put each vehicle through a battery of tests that included skidpad and acceleration measurements, a hillclimb, a rocky stairstep course and a rock garden. Considering the nature of the beasts, on-road ride and comfort were not part of the routine.

So, which four-wheeler ended up on top? Click here to read the results, and don't act like you're surprised by the victor.
---
By Jeremy Korzeniewski
---
See also: Buy a Toyota GT86 and your wife will hate you, Supra successor may be all-electric sourced from Tesla; MR2 returning too?, Hi-po Toyota GT86 to get KERS?.