Former Princess Diana Rolls-Royce being auctioned for charity [w/video]
Wed, 31 Oct 2012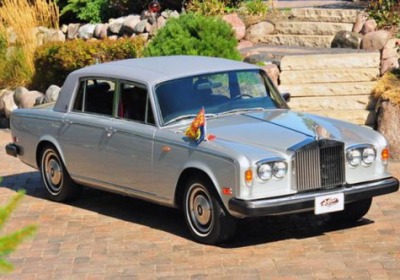 While it isn't that uncommon to see cars belonging to celebrities and dignitaries roll across the auction block these days, this car is a little extra special. This particular 1979 Rolls-Royce Silver Shadow was the car that Prince Charles and Princess Diana arrived at the White House in during a visit in 1985. As some added trivia, this was also the visit where Princess Di cut a rug with none other than John Travolta.

Volo Auto Museum will be auctioning off this piece of American and British history on November 9th – exactly 27 years from Princess Di's White House visit. According to the auction listing, this armored Silver Shadow was the official car of the UK's embassy, and it has been valued at around $2 million by the Berman Museum of History. The auction will have no reserve with some of the proceeds going to the Children with Cancer UK charity that Princess Diana started in 1988.

Scroll down for more information about this car and its auction as well as a video showing Prince Charles and Princess Diana arriving at the White House in the car back in 1985.



No-reserve auction to feature Princess Di's first official U.S. Ride – 1979 embassy-owned, armored Rolls valued at $2 million by Berman Museum of History

Volo, IL - October 29, 2012 /PRNewswire/ - Get in on the excitement as the Volo Auto Museum hosts an online, no-reserve auction on Nov. 9th featuring the heavily armored Rolls Royce that carried Diana, Princess of Wales, and Prince Charles during the princess' first-ever visit to the U.S. in November 1985.

This Rolls Royce is thoroughly documented to be the United Kingdom's official embassy car, specifically retrofitted for use of the Royal Family and other UK dignitaries of the highest order.

The car is all-original except for a gorgeous, new paint job. Gleaming silver with a red leather interior, it features a 600-pound, inches-thick windshield and nearly equally hefty rear window. Side windows, also bullet-proof, are sealed against possible toxic gas exposure, and the exterior trim is fitted with intercoms.


Documents show in excess of $200,000 was spent armoring the Silver Wraith II, and the process took three years.

But the most exceptional document is the diplomatic logbook, in which entries show it was used during the princess' introduction to the United States. In fact, videotape footage has been discovered showing the statuesque princess and Prince Charles in the car approaching the White House, where they met then-President Ronald Reagan and Nancy Reagan.

"One of Jay's customers called and told Jay about the car," Volo Auto Museum Director Brian Grams said, speaking of his brother, Jay. "An associate of the Berman Museum of History, which valued the car at $2 million, had purchased it from Berman."

"We just thought it was an armor-plated Rolls Royce that had been embassy-owned," he continued. "But after digging through the documents and doing some research, we figured out what the car really was."

In conjunction with the 27th anniversary of Princess Diana's first visit, the museum will offer this exquisite car and fantastic embodiment of history to the highest bidder. In honor of Princess Diana, a portion of the sale of the car will be donated to CHILDREN with CANCER UK, Britain's leading children's charity dedicated to the fight against childhood cancer, which the Princess inaugurated in 1988.

CHILDREN with CANCER UK funds life-saving research into the causes, prevention and treatment of childhood cancer and works to protect young lives through essential welfare and campaigning programmes.

Other cars featured in this Nov. 9th eBay auction will include Jon Bon Jovi's personal BMW, the last car ever owned by Groucho Marx, and others. Full details are available by calling (815) 385-3644. Or visit volocars.com.
---
By Jeffrey N. Ross
---
See also: Rolls-Royce Corniche Coupe does some performance testing at N"urburgring, Rolls-Royce goes glam, celebrates Art Deco heritage in Paris, Rolls-Royce bringing art deco-inspired cars to Paris, celebrates with posters.