Former Porsche CEO Wiedeking indicted over VW takeover bid
Thu, 20 Dec 2012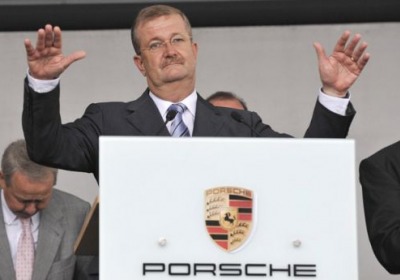 Do you recall the failed efforts by Porsche to take over Volkswagen? According to a Bloomberg report, former Porsche CEO Wendelin Wiedeking (above) and ex-CFO Holger Haerter have finally been charged with market manipulation over the exercising of options as part of the German sportscar manufacturer's ill-fated attempt to take over the much larger VW. That failed bid eventually resulted in the reverse coming true – VW swallowing Porsche.

The charges leveled by Stuttgart prosecutors come after a three-year investigation centered around allegations that Porsche execs made a concerted effort to increase the company's share in VW to 75 percent in preparation for a hostile takeover. Porsche had previously told its investors on at least five occasions that it had no intention to buy VW.


Portions of the investigation have subsided, according to prosecutors, citing an inability to prove certain improprieties with a "necessary degree of certainty." The number of charges is down to 5 from a previous 14 counts regarding "information-based market manipulation."

For its part, Porsche has been quick to point out that the investigation centers around two men who are no longer with the company – Weideking and Haerter stepped down in July of 2009.
---
By George Kennedy
---
See also: UK auto magazine says this is the best car commercial of all time [w/videos], Playboy reveals its 2013 Cars of the Year, Automakers score 8 out of top 20 most-watched ads on YouTube [w/videos].