Ford supports bid for Detroit Rallycross race with Motown-minded Fiesta ST vid
Mon, 01 Jul 2013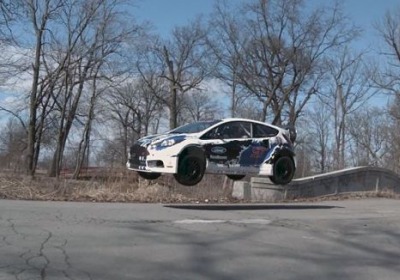 As Ford continues its cheerleading effort to help bring the 2014 Summer X Games to its hometown of Detroit, MI, it has released footage of its 2014 Fiesta ST Rallycross car on location at some of the city's well-known landmarks. This video appears to have been shot around the same time as the previous X Games Detroit video was made, but it focuses 100-percent on rally car action.

With Ford Racing driver Andreas Eriksson behind the wheel, this Fiesta ST lays down some serious rubber atop Detroit's Cobo Hall parking structure, at Belle Isle and around the Michigan Central Depot. Detroit isn't alone in the bid for a three-year X Games contract as Chicago, Austin and Charlotte are also hoping to play host. The winning host city is expected to be announced this summer. Scroll down for Ford's two-minute video showing the Fiesta ST Rallycrossing through the Motor City.



FORD RACING TESTS OLSBERGS MSE FORD FIESTA ST RALLYCROSS RACE CAR IN DETROIT


Detroit, Mich., June 26, 2013 – Recently, ESPN announced Detroit, Michigan as one of four final cities still in the running as the host for X Games 2014-2016 and, with that, the Detroit bid team took the campaign to the next level releasing a campaign video that demonstrated X Games sports in the context of Detroit.

After Ford Racing received a call from the team campaigning the X Games Detroit bid, OlsbersMSE (OMSE) Team Principal Andreas Eriksson agreed to test the newly-built Ford Fiesta ST rallycross race car in Detroit for the bid team to film. Lead by Eriksson, OMSE has helped secure Ford two consecutive Global Rallycross Manufacturers' Championships and Ford Racing was thrilled to have him test the new race car in the streets of Detroit.

With locations like the parking lot of Cobo Hall, which overlooks the Detroit skyline, and the historic Detroit Train Station and Belle Isle Park, the OMSE Ford Fiesta ST rallycross race car was able to test around some of the most iconic buildings and landmarks in the city. A professional driver, closed roads and a Ford Fiesta ST rallycross race car on a random Saturday proved to be an epic day. Thanks to the X Games Detroit bid team, Ford Racing is now thrilled to release a compilation of highlights.

About Ford Motor Company
Ford Motor Company, a global automotive industry leader based in Dearborn, Mich., manufactures or distributes automobiles across six continents. With about 168,000 employees and about 65 plants worldwide, the company's automotive brands include Ford and Lincoln. The company provides financial services through Ford Motor Credit Company. For more information regarding Ford and its products worldwide, please visit http://corporate.ford.com.
---
By Jeffrey N. Ross
---
See also: 2014 Holman & Moody 50th Anniversary TdF Ford Mustang, Mysterious small Ford spied in Germany, Bill Ford augments his power by nearly doubling stake of supervoting shares.