Ford making Fusion production moves to challenge Camry on volume
Mon, 26 Aug 2013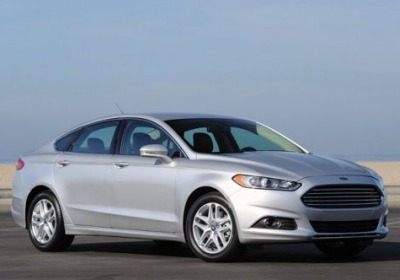 The Ford Fusion may already beat the Toyota Camry in terms of models offered, transaction price and sales increase so far this year, but if the Fusion wants to make a run at the title of best-selling car in the US, Bloomberg reminds us that volume is key. Opening a second production line at the Flat Rock, MI assembly plant will reportedly allow Ford to produce around 350,000 Fusions annually, which compares Toyota's ability to crank out 475,000 Camrys and Honda's capacity to build around 450,000 Accords.


For the Fusion, that's an extra 100,000 units compared to the car's current pace, and the article adds that the Fusion is "Ford's best shot" to regain the passenger car sales crown – a title it (or any other US automaker, for that matter) hasn't held since the mid-1990s. Despite hiccups with recalls and fuel economy numbers, the Ford Fusion is still red hot when it comes to sales. Fusion sales are up 13 percent so far this year (compared to a 0.6 percent decrease for Camry), and its average transaction price of $26,343 is about $2,300 more than its rival from Toyota.

The Fusion's popularity has helped Ford improve its sales in California; the Dearborn-based automaker has a market share of 18 percent in the state, which is just a fraction of a percentage behind Honda. And this popularity should continue as Ford ups Fusion production and expands the model lineup even further for 2014 with a new 1.5-liter EcoBoost engine soon to become an option.
---
By Jeffrey N. Ross
---
See also: The fascinating forgotten civil defense history of Mister Softee trucks, EPA says fuel economy test for hybrids is accurate, Auto critic calls out Corvette, Mustang and Cherokee faithful.