Ford looks back on 50 years of the Mustang in Detroit
Tue, 14 Jan 2014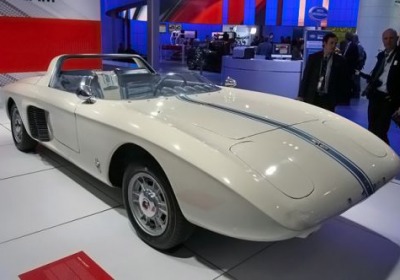 Ford has something special sitting in its booth here at the 2014 Detroit Auto Show. In fact, it brought two special somethings in the form of the Ford Mustang 1 Concept that first saw the light of day in 1962 and the very first production Mustang that rolled off the production line in 1964.


These classic creations are sharing floor space with the brand-new 2014 Mustang in honor of the pony car's 50th Anniversary. Since Ford's latest 'Stang already made its auto show debut (at a number of locations, including Los Angeles), we think it's pretty cool that the Blue Oval did something special for its home-town show.

Check out both the Mustang 1 Concept and first production 1964.5 Mustang above and below.
---
By Jeremy Korzeniewski
---
See also: Ford cranks up '32 Ford body production, 2015 Ford Mustang Convertible makes inappropriate appearance in Detroit [w/video], F-150 just the start of Ford's aluminum plans.