Ford cranks up '32 Ford body production
Tue, 14 Jan 2014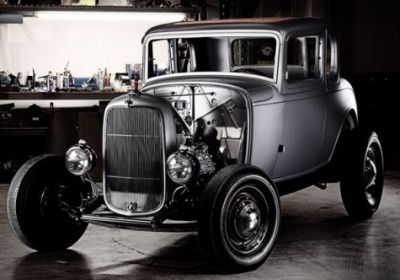 If you're going to build your own hot rod, you'll want to start with a '32 Ford 5-Window Coupe. Favored by American servicemen returning from World War II, the '32 Ford remains the very icon of the hot rod to this day. The trouble is there were only so many of them made in the first place, and finding one today can be a challenge. That's where reproduction models come in.

The aftermarket is replete with companies that will sell you a fiberglass body in the form of a '32 Ford coupe, but quality can be hit or miss. So to help meet demand among hot rod builders and enthusiasts, Ford has teamed up with United Pacific Industries to offer officially licensed body shells.

Announced at the SEMA show in November, the '32 Ford 5-Window Coupe body is made from stamped steel according to original specifications from original machinery where possible or reproduced machinery built to the same original specifications where necessary. The bodies are ready to accept vintage powertrains or crate motors from the Ford Racing catalog, and join the 9,000 other parts offered in the Ford Component Sales catalog – including similar reproduction bodies available for the 1965-70 Mustang and 1940 Ford Coupe. From there, the proverbial sky's the limit.

Jan 10, 2014 | Dearborn
Car Enthusiasts Can Experience Hot Rod Lifestyle with 1932 Ford 5-Window Coupe – Latest from Ford Component Sales

- 1932 Ford 5-Window Coupe body is the latest official licensed product offered by Ford Component Sales and its licensee, United Pacific Industries
- Builders can buy classic V8 powertrains, or contact Ford Racing for a variety of crate motor options
- Ford restoration parts licensing program offers more than 9,000 parts, for vehicles from 1909 to the mid-2000s

Car enthusiasts will now be able to get behind the wheel of their own 1932 Ford 5-Window Coupe through a new licensed product offering from Ford Component Sales.

Ford's restoration parts program is now offering the body shell for the 1932 Ford 5-Window Coupe. The coupe has become a symbol of one of the biggest fads of post-World War II America – the souped-up hot rod and cruising culture that exploded with returning servicemen flush with cash and technical know-how.

"With the 1932 Ford 5-Window Coupe body shell, you can literally build a classic-looking hot rod, ordering Ford restoration parts right from your computer, and avoid visiting a wrecking yard," said Dennis Mondrach, restoration licensing manager, Ford Component Sales. "The coupe body shell joins our growing list of ready-to-build stamped steel body shells, including the classic 1965-70 Mustangs and 1940 Ford Coupe."

The Ford restoration parts program has more than 9,000 licensed parts for Ford-built vehicles, everything from the Model T to those as recent as 2007.

"Ford Racing can supply crate motors and performance products to suit any appetite," said Mondrach. "Most of the parts needed to complete a build – including hardware, drivetrain, interior parts, even instruments with classic or customized faces – are available. You can build your car as a classic, or upgrade the components and build your own version of an icon that was part of the cruising culture in the 1950s and 1960s. You choose."

Whenever possible, Ford uses the original tooling to make the reproduction parts; in some cases, if tooling is no longer available, new tooling is designed to the original specifications.

The 1932 Ford 5-Window Coupe body shell, which premiered at the 2013 Specialty Equipment Market Association Show in Las Vegas, is stamped from new metal, and welded and assembled with state-of-the-art fixtures to maintain dimensional integrity. The finished body receives a rust-preventative coating for additional protection.

Every component manufactured by United Pacific Industries, the officially licensed supplier, is made to Ford Motor Company standards. The strict licensing process helps ensure any parts bearing the company's official trademarks meet the quality standards and authenticity Ford classic car enthusiasts demand.

Each approved part comes with a blue-and-white sticker with the Ford logo stating it is an officially licensed restoration part. That means fit, function and appearance is as authentic as the original.

Aside from body shells, Ford Component Sales licenses replacement parts like fenders, radiators and badging to complete most Ford project vehicles. The Ford restoration parts program means gearheads can avoid spending hours searching online for rare, new/old stock parts, or wandering through scrap yards for used parts to complete a classic. Anyone who has a solid chassis can now mount a fresh sheet metal body, and get a taste of the 1950s-era hot rod culture to park in their own garage.

Accurate reproduction parts make the restoration process easier, and can be the difference between a trophy and an empty-handed trip home for enthusiasts who enjoy showing off the finished product. The Ford licensing program has been singled out for special recognition from both Mustang Club of America and Thunderbird Club of America for supplying components identical to original Ford parts.

For more information
Visit the Ford restoration parts website at www.fordrestorationparts.com. Select the vehicle make and model in which you're interested to load a list of suppliers with contact information.

About Ford Motor Company
Ford Motor Company, a global automotive industry leader based in Dearborn, Mich., manufactures or distributes automobiles across six continents. With about 180,000 employees and 65 plants worldwide, the company's automotive brands include Ford and Lincoln. The company provides financial services through Ford Motor Credit Company. For more information regarding Ford and its products worldwide, please visit corporate.ford.com.
---
By Noah Joseph
---
See also: 2015 Ford Mustang Convertible makes inappropriate appearance in Detroit [w/video], F-150 just the start of Ford's aluminum plans, The 2015 Ford Mustang is not so mellow in yellow.