Ford bondage ads reportedly trigger firings at Indian ad agency
Wed, 27 Mar 2013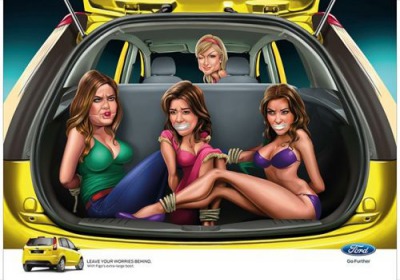 You will probably remember the ads for the Ford Figo hatchback in India, the ones that showcased the extra large boot of the little hatchback by joking that you can fit three of your enemies in the trunk. One of the ads had Michael Schumacher in the front seat, obviously pleased about having Sebastian Vettel, Lewis Hamilton and Fernando Alonso tied up in the back. But the other two had Paris Hilton and ex-Italian prime minister Silvio Berlusconi up front and three bound and gagged women in the back – in Hilton's case (shown above), it was the Kardashians.

This did not go over well, and Reuters reports that certain employees at JWT India have been fired over the matter. It is also reported that the images weren't actual advertisements, nor were they part of an actual campaign; JWT said they "were never intended for paid publication, were never requested by our Ford client." A JWT rep said the employees who created the ads did so on their own, Ford commented to Automotive News that the ads were "part of a creative exercise intended to test concepts for an advertising competition."

The problem, if the story is to be believed, is that the employees skipped the regular review protocols and uploaded their work to an ad industry site – they were found on Ads of the World. That page, like the employees, has been removed.
---
By Jonathon Ramsey
---
See also: Ford unveils Mustang 50th anniversary logo, plans merchandise, Autoblog Podcast #326, Fiat boss Elkann being mentored by... Bill Ford?.