Ford F-100 'Snakebit' shown off by Gene Simmons and Shannon Tweed at SEMA
Tue, 05 Nov 2013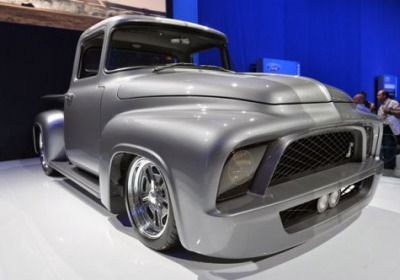 Ford, along with KISS bassist Gene Simmons and his wife, Shannon Tweed, used SEMA as a backdrop to pull the covers off Snakebit, a 1956 Ford F-100 pickup truck that's been updated with Shelby Mustang-derived styling bits and a 5.4-liter supercharged V8 engine. All 550 horsepower are funneled through a six-speed manual gearbox to the rear wheels.

Underneath the custom bodywork sits a chassis that's been stretched five inches and a bed widened and bedecked with billet machined pieces that are supposed to look like wood. The 20-inch rear and 18-inch front wheels ape those of past Shelby Mustang models. The interior is swathed in two-tone leather with a bench seat designed to look – try to act surprised – like a Shelby Mustang.

Like what you see? Bidding for the truck will take place in 2014 at an unspecified Barrett-Jackson event (we'd assume Scottsdale). Proceeds will be used to help build a children's hospital in Saskatoon, in the province of Saskatchewan, where Ms. Tweed grew up. See the high-res gallery above and the press release down below for more.

SNAKEBIT AT SEMA: GENE SIMMONS, SHANNON TWEED UNVEIL CUSTOM 1956 FORD F-100, TO BE AUCTIONED FOR CHARITY IN 2014

KISS bassist Gene Simmons and his wife, actress Shannon Tweed, unveil custom 1956 Ford F-100 pickup
Custom 1956 Ford F-100, aptly named Snakebit, features styling cues that pay homage to classic Shelby Mustangs; power is supplied by Ford's supercharged 5.4-liter V8 engine
Snakebit will be auctioned next year by Barrett-Jackson, with proceeds going to help fund a children's hospital in Tweed's hometown in Canada
Snakebit, a custom 1956 Ford F-100 with styling cues that salute the great Shelby Mustangs, was unveiled today by KISS bassist Gene Simmons and his wife, actress Shannon Tweed, as part of Ford Motor Company's display at the Specialty Equipment Market Association show at Las Vegas Convention Center.


Snakebit is part of a fundraising effort to build a children's hospital in Tweed's hometown of Saskatoon, in the province of Saskatchewan, one of only two Canadian provinces without a dedicated children's hospital.

The project was originally conceived by Tom Foster, president of Saskatoon-based customizer Industrial Machine & Manufacturing, as a team-building exercise that could help raise funds for a new children's hospital.

Called Wheels of Dreams, the project to design and build the custom truck was funded by the Ford dealer association in Saskatchewan. It will be auctioned off in 2014 by Barrett-Jackson.

The winning bidder will get one serious truck. Under the sectioned dual-skinned hood of the 1956 F-100 is a Ford Racing supercharged 5.4-liter V8 breathing through a high-performance exhaust system. A six-speed manual gearbox feeds the estimated 550 horsepower to the 20-inch rear wheels.

The wheelbase has been stretched five inches, while the box has been widened and dressed with a billet machined floor to mimic wood. It is topped with a custom tonneau cover. The headlights and sequential taillights are custom-built, while 18-inch front and the 20-inch rear wheels are also inspired by Shelby Mustangs.

The interior of this metallic gray beauty features handmade panels and two-tone leather. The knobs on the leather-wrapped dash are custom, as are the armrests. The leather bench seat, carefully contoured to match the look of a Shelby Mustang interior, is from Glide Engineering.

"The Wheels of Dreams project symbolizes how people can come together to meet the needs of our children and families by raising much needed funds for the new Children's Hospital of Saskatchewan," said Brynn Boback-Lane, president and CEO of the Children's Hospital Foundation of Saskatchewan. "Just like the hospital, this concept car project started as an idea and a desire to do something better for our community.

"What began as a grassroots idea, the volunteers and supporters of Wheels of Dreams have turned into a major international fundraiser opportunity that will ultimately benefit our foundation and the children of Saskatchewan who require the services and care of a hospital," added Boback-Lane.
---
By Jeremy Korzeniewski
---
See also: Ford Fiesta ST customs get wild at SEMA, Ford vandalizes the SEMA Show floor with 2014 Transit Connect, J Mays retiring from Ford design, succeeded by Moray Callum.