Ford Australia debuts Ranger-based Everest SUV concept
Tue, 13 Aug 2013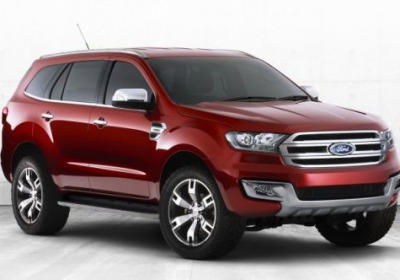 Ford has been in hot water in Australia ever since it announced plans to end local production of the Falcon and Territory SUV. Besides canceling a model that is to Oz what the Mustang is to America, the end of production means more than a few folks will be out of work.

Keen to prove that it has a plan for the market, Ford has unveiled the Aussie-penned Everest Concept, a rough-and-tumble, seven-seat SUV. While not a direct replacement for the aging Territory (that role will eventually be filled by either the Edge or Flex, according to Car Advice) it's an indication from Ford's brass that the Blue Oval is still committed to Australia.

To prove that fact, Alan Mullaly, Mark Fields, Jim Farley and regional execs descended on Sydney for the debut of the new concept. Ford's Australian president and CEO, Bob Graziano, said of the Everest, "Our customers, our employees and Australia can be assured that we're connected to the nation and committed to our customers through terrific products with class-leading technologies."

Car Advice reports that the production Everest will share some components with the not-for-US Ranger pickup and that it will hit the market in 2015, shortly before the Territory departs in 2016. As for North American sales hopes, we wouldn't hold our breath – Ford already offers more three-row utility and crossover vehicles than just about anyone these days, and adding another truck-based SUV would seem to be out of step with the market's direction and fuel economy mandates.


Ford Accelerates Product and Technology Led Transformation in Australia

SYDNEY – Aug 13, 2013: Ford is accelerating its product and technology led transformation with a completely refreshed line-up and several all-new models in showrooms between now and 2017.

In an unprecedented acceleration of new vehicle launches, Ford will refresh its entire vehicle line-up in Australia by 2017, offering 11 global vehicles to serve Australian customers for years to come with a full family of passenger cars, SUVs and commercial vehicles with exceptional quality, smart design, safety, fuel efficiency and value.

Ford Motor Company President and Chief Executive Officer, Alan Mulally, is in Sydney to reaffirm Ford's long-term vision for Australia.

"We are introducing more great vehicles to Australian customers more quickly – with more innovation, more first-to-market safety advancements and more features customers really want and value," Mulally said. "We also are committed to Australia as one of our product development centres of excellence, with talented designers and engineers creating vehicles and technologies here in Australia for the world."

Ford's vision of the future is being brought to life in a major event held at Fox Studios in Sydney and includes Ford Motor Company Chief Operating Officer, Mark Fields, Executive Vice President of Global Marketing, Sales and Service and Lincoln, Jim Farley and Group Vice President and President of Asia Pacific, David Schoch and Ford Australia President and CEO, Bob Graziano.

Fields gave Australia, and the world, the first look at a rugged, seven-seater design concept called the Ford Everest Concept, which was created by the Ford design and product development team in Australia, enhancing Ford's already strong SUV line-up, which includes the Ford Kuga and Ford Territory and soon the new Ford EcoSport.
"This is our vision for a large, seven-seat off-road SUV to allow our customers to take on the world and it was created by our world-class design team here in Australia," Fields said.

"We believe our customers will love the distinctive design, which clearly showcases the Ford Everest Concept's exceptional off-road capability and toughness."

Fields said the Ford Everest Concept was unmistakably a new member of the Ford family.

Featuring an inverted trapezoid grille, set high on the front of the car, the Ford Everest Concept's contemporary look deliberately conveys ruggedness, combined with modern proportions, dynamic window graphics and a sculptured profile.

The SUV's distinctive design and high ground clearance is not only purposeful but true to Ford's fun-to-drive DNA.

Full Family of Vehicles
Ford's vision of the future also includes the full family of Ford vehicles; the Ford Fiesta, Ford Focus, Ford Mondeo, Ford EcoSport, Ford Kuga, Ford Ranger and Ford Transit, as well as the iconic Ford Mustang and the new 2014 Ford Falcon. A range of new customer-focused technologies will also roll out in future Fords.

Graziano said Ford in Australia was entering a new phase. "Our customers, our employees and Australia can be assured that we're connected to the nation and committed to our customers through terrific products with class-leading technologies," he said.

"Our road to growth is with great new products that serve a broad range of Ford customers.

"Driven by our One Ford strategy of serving customers in all markets with a full range of competitive vehicles and leveraging our global capabilities, the award-winning Ford Fiesta, Ford Focus, Ford Mondeo, Ford EcoSport, Ford Kuga, Ford Ranger and Ford Transit are global platforms that are underpinned by world-class design, engineering and technology."

The company took the wraps off the new Ford Fiesta, Ford Fiesta ST, Ford Mondeo hatch and wagon and Ford EcoSport. Ford will also offer commercial customers in Australia the Ford Transit Custom as well as heavier duty Ford Transit Cargo model.
"All of these great products deliver on our core brand pillars – Quality, Sustainability, Safety and Smart – and they have opened up exciting opportunities to serve our customers better," Graziano said.

When the Ford Transit Custom and Ford Transit Cargo arrive early in 2014, they will offer Australian businesses, small and large, a range of new commercial vehicles.
Both are truly global vehicles packed with Ford technology. They will take the Australian van market in an exciting new direction with purpose-built applications for customers who need the ultimate in capability.

The all-new Ford Transit Custom is primed to deliver style, driver appeal, class-competitive load-carrying ability, Ford SYNC compatibility and fuel efficiency.

The Transit Custom, the "International Van of the Year 2013," arrives in dealerships later this year and the Ford Transit Cargo early next year.

The Ford Transit Cargo is a capacious purpose-built workhorse for heavy duty applications for customers seeking more from their vans.

The newest Ford Transit is the latest in a long line of market-leading Transits which have sold 7 million vehicles since the first model was introduced in the UK in 1965.


World-Class Technologies
Ford's family-friendly MyKey technology will be introduced on the new Ford Fiesta ST in September, and Ford's rear inflatable seatbelts will be introduced in the 2014 Ford Mondeo.

These will be complemented by the influx of other new technologies, including EcoBoost engines, SYNC in-car connectivity and AppLink.
SYNC AppLink-enabled Ford vehicles will be available in select Ford models in Australia in 2014, allowing customers to enjoy an enhanced driving experience. The first three apps available for Ford AppLink in Asia Pacific – and Australia – by Pandora, Kaliki and TuneIn Radio, mark new ways for customers to bring their favourite smartphone apps into their vehicles via simple voice commands.

New Ford Fiesta
Ford is taking its popular small car to a new level with a sharp new design inside and out, improved fuel efficiency and a host of new technologies.

The new Ford Fiesta is available in four highly equipped new models, including competitive Ambiente, stylish Trend and high-series Sport. The range is completed with the high-performance 1.6-litre EcoBoost-equipped three-door ST. The new Ford Fiestas are on sale in September, 2013.

The new Ford Fiesta gives drivers the perfect blend of a connected world and an enjoyable driving experience. Ford SYNC debuts on Fiesta and is now available across the Fiesta range offering hands-free, voice-activated in-car connectivity with compatible mobile phones and media players including Bluetooth®1 hands-free and music streaming.

Apart from a frugal 1.5-litre Ti-VCT engine in the Ambiente and Trend, the new Ford Fiesta Sport will be available with the 2012 and 2013 "International Engine of the Year" – the 1.0-litre EcoBoost petrol engine.

The state-of-the-art three-cylinder EcoBoost engine combines direct fuel injection, turbocharging and variable valve timing to produce 92 kW of power and 170 Nm of peak torque.

Customers looking for even more performance will be able to get behind the wheel of the Ford Fiesta ST. The six-speed manual Fiesta ST is the most powerful ever production Feista, delivering 134kW and 240Nm from its 1.6-litre EcoBoost engine, while delivering 6.2 litres/100km2.

All-New Ford Mondeo
The stylish all-new Ford Mondeo offers striking design and premium-level interior craftsmanship.

Built on Ford's global CD-segment platform, the refined new version of Ford's medium car will be available in five-door or wagon body styles.

Ford also confirmed that powerful, yet efficient EcoBoost petrol engines will be available in the line-up, including the new 1.5-litre EcoBoost, which will deliver lower operating costs for Australian customers. Ford Mondeo will also be available with the proven Duratorq turbo-diesel 2.0-litre TDCi.

As expected by Ford customers, all-new Ford Mondeo will be available with the latest safety features – including the introduction of segment-first rear inflatable seatbelts and technology, including SYNC® in-car connectivity powered by Microsoft. More details of the 2014 Ford Mondeo will be revealed closer to its launch in the second half of 2014.

2014 Ford Falcon
Ford provides another glimpse of what the next Ford Falcon will look like.
The 2014 Falcon will benefit from a range of environmental initiatives designed to reduce its CO2 footprint and improve fuel efficiency.

Among the improvements are enhanced aerodynamics as a result of extensive engineering and design work on the car. The 2014 Falcon will also be available with advance low-resistance tyres and a new high-tech six-speed automatic transmission that will reduce mass and weight.

The transmission will provide better acceleration and provide adaptive shifting, which analyses the driver's personal driving style and driving conditions and then implements optimal shifting accordingly.

Additional new safety, technology and design features will complement the vehicles' existing five-star ANCAP rating and deliver customers a world-class vehicle package. Further details of the 2014 Falcon will be announced closer to launch.

Ford Mustang
Australian performance car buyers will be able to get behind the wheel of the legendary Mustang when it returns to Australia in right hand drive.

"The car has a unique connection with customers. It speaks to who we are – allowing you to enjoy the freedom of the journey like never before," Farley said.

"One Ford is opening the door for Australians and consumers around the world to our best-ever portfolio of vehicles and giving them new reasons to look again at Ford. The Ford Mustang is one of these vehicles."

Ford's Dominating SUV Line-up
The Ford Everest Concept is a perfect complement to the rest of the Ford SUV portfolio – the new Ford EcoSport, which arrives in December, and the all-new Ford Kuga and award-winning Ford Territory.

The new Ford EcoSport combines class-competitive design, technology, quality and safety. It is aimed at attracting a new generation of consumers who want the utility and comfort of an SUV in a smaller vehicle. It will come available with the award winning 1.0-litre EcoBoost engine, the 2012 and 2013 "International Engine of the Year", as well as a 1.5-litre engine. Further details on the Ford EcoSport will be revealed closer to its launch in December.

Like the Ford EcoSport, the Ford Kuga delivers a serious pitch into the SUV arena. The Ford Kuga has a compelling price point and product range that includes the Ambiente, mid-series Trend and sports luxury Titanium.

The Ford Kuga offers a sharper design, improved packaging and more technology, including SYNC in-car connectivity and an innovative Ford hands-free lift gate that opens with a wave of a foot under the bumper in the Titanium model.

For families and customers seeking even more versatility, the multi award-winning Ford Territory is Australia's only locally designed and engineered sports utility vehicle.
---
By Brandon Turkus
---
See also: Last 2014 Ford Shelby GT500 Convertible nets $500k for charity at Barrett-Jackson [w/video], Ford Focus Electric and ST recalled over lighting issue, Ford pulls official support from top-level NHRA teams.