Ferrari teases more specs on its Enzo successor
Mon, 24 Dec 2012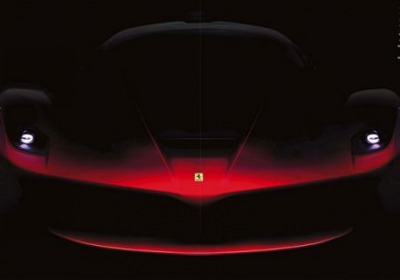 On its web site, Ferrari has divulged a little more info about the supercar that will succeed the Ferrari Enzo. The Ferrari magazine reported that everything the Scuderia has learned in Formula One has gone into its soon-to-be-revealed animal, and this latest disclosure shows just how much that's true. We don't know its length or width, but Ferrari says one of the targets for the car was "a reduction in height and wheelbase to match that of the 458 Italia."

Rory Byrne, the Ferrari F1 designer that's been involved in 11 world championships for the team, has spent three years contributing to chassis development. That chassis will be laid up by hand in the company's F1 composites department, each chassis composed of different kinds of carbon fiber and cured in an autoclave, F1 monocoque-style. That's part of where the lighter weight and vastly heightened torsional and beam rigidity versus the Enzo comes from. Just behind the tub – and behind the driver's back – will be the batteries and fuel tank, again, just as on an F1 car.

The cockpit will be personalized to the driver in a way that is rare among road cars, with each seat made-to-measure for the driver and then set in a fixed position in the cabin. The steering wheel and pedal box will move to accommodate pilots. What's more, we're told that "the occupant's feet are at the same level as the driving position." That, and the angle of the seatback, will provide "an extraordinarily racy feeling."


An evolution of the 740-horsepower, 6.3-litre V12 currently found in the F12 Berlinetta will work with the latest HY-KERS and a double-clutch transmission. Ferrari says the powertrain makes the car quicker from 0-to-120 miles per hour, reduces emissions by 40 percent, and improves features like torque vectoring and brake force distribution.

Still no word on what it will be called, but specs like these, by any name, would be just as sweet.
---
By Jonathon Ramsey
---
See also: This is the amazing Christmas wonderland Ferrari builds for kids every year, Ferrari officially teases successor to Enzo throne, Ferrari celebrates 10 million Facebook fans, animates Montezemolo.