Ferrari F50s duel in world's most improbable tug-of-war
Thu, 11 Apr 2013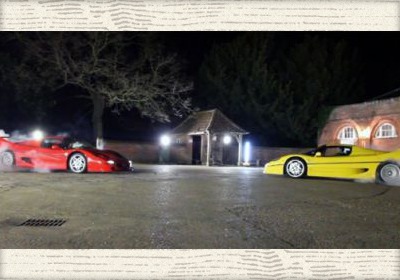 If it wasn't obscene enough to go off-roading in a Rolls-Royce Phantom or rally driving a Ferrari Enzo, the Tax The Rich crew has gotten its hands on a pair of ultra-rare Ferrari F50 models to perform a tug-of-war battle, which we usually see reserved for pickup trucks. Only 349 F50s were ever built, but this video pits two of them against each other by attaching a rope to the front ends, throwing the shifter into reverse and punching the throttle.


As we've come to expect from this video troupe, the action starts off with plenty of gravel-chucking, dirt-road drifting before the two cars finally meet head-to-head. Scroll down to watch the 520-hp V12s screaming in reverse as the tires smoke away.



---
By Jeffrey N. Ross
---
See also: Ecclestone wonders if F1's upcoming turbo V6s should get augmented sound [w/videos], LaFerrari 3D model adds depth to Maranello's new supercar, Ferrari F12 races Air Malta A320 jet.