Facelifted Ford Focus caught testing in the cold
Wed, 18 Dec 2013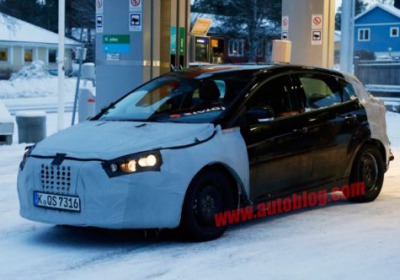 It's that time in the life of the Ford Focus to get a little work done - a nip-tuck here, some Botox there. Yes, Ford is testing a facelifted version of its global C-segment entry, which first hit markets in Europe and North America in May 2011.

Like the touchup on the Fiesta, expect Ford's gaping grille to make its first appearance on the Focus. Our spy photographers point out that this is likely to be a more comprehensive makeover than previous spy shots suggested, based on the additional camouflage seen here on the front and rear ends of this five-door model. New head and taillights are also likely in order, as are changes to the front and rear fascia.


The interior was also snapped and features a cleaner design with a larger central display. Other than that, it looks like some buttons have been changed, making us think most of the Focus' updates are limited to the exterior.

While what we're seeing here is likely a European variant of Ford's global Focus, it's very likely that styling changes made across the pond will find their way onto US-spec cars. There's no word on just when we'll be seeing the revised Focus, although we'd wager it will be sometime before the end of 2014.
---
By Brandon Turkus
---
See also: More evidence GT500-replacement will be named GT350, 2015 Ford Mustang to offer solid-rear axle, sort of, And the Top Gear UK Cars of the Year for 2013 are....