Europeans get first crack at new Golf Variant wagon
Mon, 04 Mar 2013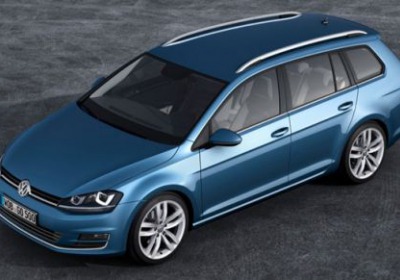 Just last week, when we brought you news of a new Volkswagen Golf variant out and testing in Europe, we had no idea we were being so literal with out description. For it seems that VW has every intention of calling its new Golf wagon, making its Geneva debut, the "Golf Variant."

Odd/interesting sobriquets taken as read then, there's a lot to like about this new small wagon from VW. The Variant will shed some 232 pounds in this generation, and will come to market with two efficient TDI engines. Volkswagen isn't giving us displacement figures for either yet, but we're told the diesels will come with outputs of 110 and 150 horsepower. The 110-hp TDI BlueMotion Varient will be good for a whopping 71.3 miles per gallon on the European cycle, when mated to the six-speed manual transmission.

The German automaker has brought along an all-wheel-drive 4Motion version of the Gold Variant to bow in Geneva, as well, and a natural gas-burning TGI BlueMotion is said to be "in the pipeline."

No word yet has to when or how the Golf Variant will make its transition to the US market, though there's a decent likelihood that some version of it will become our new Jetta SportWagen. Europeans can expect the Variant to appear for sale in August of this year.

NEW VOLKSWAGEN GOLF VARIANT MAKES ITS DEBUT AT THE GENEVA AUTO SHOW

- Versatile station wagon is significantly roomier than predecessor, yet up to 232 pounds lighter


- TDI® BlueMotion model is the most fuel-efficient Volkswagen wagon ever, with an EC combined fuel consumption figure of 71.3 mpg

- Golf Variant goes on sale in Europe in August, 2013

Wolfsburg/Geneva, March 2013 - Volkswagen will expand the Golf range even further at the 83rd Geneva Salon de l'Automobile with the debut of the new Golf Variant (wagon). Like the new Golf hatchback, the Variant is significantly lighter than its predecessor, to the tune of up to 232 pounds.

For the first time, Volkswagen is also offering the Golf Variant as a stand-alone and extremely fuel-efficient TDI BlueMotion model in Europe. The 110-horsepower Variant is the most fuel-efficient Volkswagen wagon ever, with an EC combined fuel economy figure of 71.3 mpg (equivalent to 87 g/km CO2) when equipped with the six-speed manual transmission.

The all-wheel-drive Golf Variant 4Motion will also debut in Geneva. It will be available as a TDI Clean Diesel model with 105- and 150-hp engines. Volkswagen has a Golf Estate TGI BlueMotion with natural gas drive (CNG) in the pipeline, too.
---
By Seyth Miersma
---
See also: Volkswagen Golf Wagon leaked ahead of official unveiling, Volkswagen e-Co-Motion concept poised for delivery to Geneva, Volkswagen Golf Wagon caught completely uncovered.