Did a US automaker blow the whistle on Hyundai, Kia fuel economy issue?
Mon, 17 Dec 2012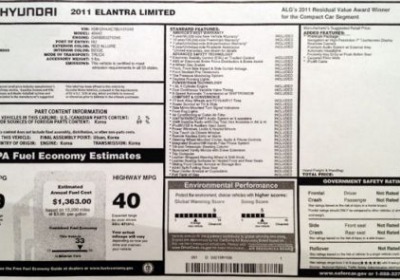 In all of the most hotly contested mainstream segments of the motoring universe, the difference of one mile per gallon averaged on a widow sticker can mean the difference between a sale and a walk-off – to say nothing of two or three mpg. So, when Hyundai and Kia were forced to reveal that many of their 40-mpg ratings were actually 38s and 37s, well, it made for big news.

It also, conceivably, made for a competitive disadvantage immediately, when the Korean automakers' products were being shopped versus the guys down the block. And it's that disadvantage that makes a recent story from Automotive News so juicy.

AN is reporting that Margo Oge, former head of the Environmental Protection Agency's Office of Transportation and Air Quality, got a tip in 2010 that Hyundai/Kia were "cheating" to get its impressive fuel economy numbers. The tip, said Oge (who retired from the EPA this past September), came from a senior vice president from a domestic automaker. The source was credible enough for Oge to launch an audit of the Hyundai figures, which ultimately lead to the debacle that we reported on a few months ago, and that the Korean company has been trying to bounce back from ever since.


The report indicates that representatives from both Chrysler and General Motors denied tipping off the EPA, outright. Ford reaction, meanwhile, was more circumspect, saying roughly that the company does not comment on specific conversations between Ford and policymakers.

The lack of a straight denial does not realistically implicate Ford here, we'd point out. But it doesn't do a lot to rule The Blue Oval out of the finger-pointing mystery, either. We'll probably never know the real answer to the "who tattled?" question, but we'll put it do you, anyway. Which of the Big Three automakers do you think would have gained the most from a Hyundai/Kia mpg drama? Give us your gut feeling, in comments.
---
By Seyth Miersma
---
See also: NHTSA upgrades Ford floor mat unintended acceleration probe, Ward's reveals annual 10 Best Engines list for 2013, 2013 North American Car and Truck/Utility of the Year finalists announced [w/poll].