DP Motorsport tries to turn a vintage Porsche 911 into a sleeper
Tue, 20 Aug 2013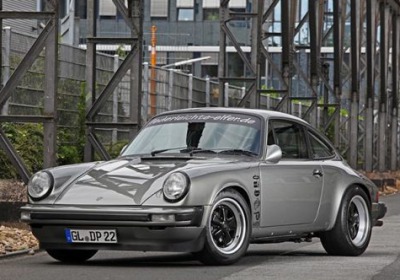 Once you get past the fact that it's hard to call a car a sleeper when it has race-product stickers on its quarter panel, and the script across the back panel reads "Porsche 911 3.2 Sleeper," it's fun to imagine what this car can do. Celebrating the 50th anniversary of the Porsche 911, Germany's DP Motorsport took a model from 1986, stripped it of everything – including the paint and undercoating – then replaced everything with lightweight and race-ready parts.

In went race cams and ported cylinder heads, a lightweight flywheel, an RSR titanium racing exhaust, 935-style lollipop seats and RSR carpeting, a lightweight battery, perforated and galvanized hinges and brackets, hardened perspex windows. The 3.2-liter engine puts out 270 horsepower – 70 hp above the stock 911 on sale here in 1986 – and 226 pound-feet of torque through a limited slip differential to staggered wheels. The exterior color is metallic rock-green lacquer.

If you want one, $120,00 is where the part starts, but DP Motorsport says it offers the parts individually if you don't need your vintage Porsche to sleep this hard. On a side note, for a chucklesome journey back in time, check out this review of the 1986 911 that gets things going with this line: "First off, the Porsche 911 is very expensive - how does about 40 thou grab you?" Back on topic, there's a press release below that tells the rest of the story of the 3.2 Sleeper.

DP MOTORSPORT'S ANNIVERSARY 911 3.2 SLEEPER

The fact that the Porsche 911 has already seen the light of day for 50(!) years is hard to imagine – even for die-hard car fanatics. For DP Motorsport in Overath it was reason enough to rebuild this particular 911 which left the factory in October of 1986 (a so-called G-model). For this year's 40th anniversary, the team at DP Motorsport transformed the car into a feather light Club Sport racing car while retaining the looks of a stock 911.


A significant proportion of weight was removed from the car when compared to the stock model. A radical 280 kilograms were shaved off to end up at 905 kilograms! The body was completely stripped and every bit of paint and undercoating has been removed. Then it was build up again, using extra light body parts and components. The windows for example, are made of hardened perspex. Hinges and brackets were perforated and galvanized. The perfected 911 body was finally lacquered in metallic rock-green (color code 699). The extreme loss of weight improves three things simultaneously: acceleration, braking effect and side dynamics.

The engine has a displacement of 3.200 cm³ with 288-degree Schrick cams and ported and flowed cylinder heads. The throttle valve was enlarged up to 67 mm and further on you will find a lightened flywheel, two 100 cell catalytic converters from HJS as well as an RSR racing exhaust system made of titanium, which performs its "not always easy"task... Performance output after these modifications comes to 270 hp (= 199 kW) and 307 Nm of maximum torque. The 5-speed 915 gearbox is equipped with a limited slip differential, an external cooler, and of course a short shift mechanism with extended shift lever.

In terms of chassis, street/sport Bilstein-shock absorbers can be found, which are combined with Super Pro polyurethane bushings and Uniballs all around. A welded in strut brace gives that extra bit stiffness up front and Fuchs rims in the sizes 7 x 16 and 9 x 16 are fitted with Michelin semi slicks in 225/50 and 245/45 to provide a proper connection between the car and the road surface. One of the 3.2's younger brothers, namely a 964 C2, donated the braking system to take care of the negative acceleration.

In the interior of this so called Sleeper you will discover 935 style Lollipop-seats with Williams 4-point harnesses, a DP Motorsport Club Sport roll bar, a 350mm sport steering wheel, and RS-lightweight carpet. The car is also equipped with an electrically heated windscreen, a lightweight 25Ah gel battery and last but not least a special manufactured racing cable harness.

"Lightweight, for an absolute driving experience" is one of DP Motorsport's beloved quotes, therefore the Sleeper has no power steering, no ABS and also no ESP. The avoidance of electronic driving aids requires distinct skills in controlling the vehicle on one hand, but on the other it also allows for an unlimited driving pleasure. The price ticket for this perfect example of a true thoroughbred Porsche 911 comes to € 89.911,- where those last three digits certainly aren't a coincidence.

All parts installed on the Sleeper are also available separately. DP Motorsport can do everything on your Porsche, from small modifications and weight reductions, to complete restorations and brand new builds.
---
By Jonathon Ramsey
---
See also: Leno buys classic Porsche 356 Carrera 2, seeks out and finds perfect expert for help, Infiniti cribs new US boss from Porsche, Porsche offering new tire option for Carrera GT.