Chrysler launches new Ram ads and gears up for Super Bowl XLV [w/videos]
Tue, 09 Oct 2012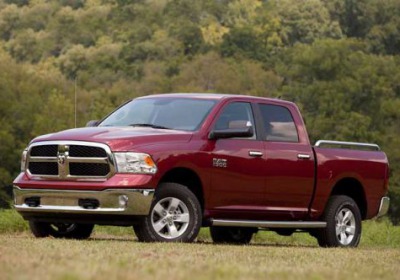 Perhaps no car company has made bigger splashes in the last two years at the Super Bowl than Chrysler, and the automaker's marketing chief, Olivier Francois, said today that he plans to be all over the big game again in February.

Last year, the company made an ad featuring Hollywood icon Clint Eastwood. The spot achieved viral status quickly when pundits charged that Eastwood's lines were politically motivated; meant to appeal to progressive voters/viewers favoring a second term for President Obama. In 2011, agency Wieden & Kennedy burst into the game with a now famous commercial featuring Eminem. Both ads have supported Chrysler's "Imported from Detroit" marketing platform.

Francois briefed reporters Monday at the Detroit Opera House while he also debuted a new series of ads for the Ram brand.

The new spots for the updated Ram 1500 have a theme of "Heaven and Earth," and speak to the lengths to which Ram will go to win over new buyers (read: Ford and Chevrolet truck owners). The brand, spun off from Dodge three years ago to its own franchise, continues using the deep, manly, seemingly tobacco-choked voice of actor Sam Elliott, who also appears in the ads.

We are going to see a lot of this campaign during the Major League Baseball playoffs and World Series. "With this truck launch we literally swing for the fences," said Fred Diaz, the head of the Ram division as well as president of Chrysler's Mexican operations. Get it?

Ram has been succeeding by focusing its messaging around the iconic Elliott, as well as making serious upgrades to the 2013 Ram 1500. Ram has also been spending resources targeting the Hispanic audience, whose pickup buying has been on the rise. Ram has seen its share of the light-duty pickup market surge 1.7 points to 17 percent among Hispanics in test markets. Ram has seen its overall share of the light and heavy pickup segment rise from 14.6 percent to 18.4 percent for the first nine months of 2012.

Chrysler did more to the mid-cycle refresh for the Ram than is usually done on a vehicle. But under Sergio Marchionne, Chrysler has made increasing share for the Ram a priority. "What started out as a minor freshening," said Diaz, "turned into a major overhaul." The 2013 Ram, which was already the pickup with the best road manners, got a new air suspension, and a new powertrain lineup including a V6 mated to an all-new eight-speed automatic transmission that returns a segment-best 25 miles per gallon on the highway; giving Ram bragging rights on fuel economy.

Have a look at four of the new Ram commercials below, where you'll also find the official press release.





New Ram Truck Brand Advertising Demonstrates 'Moving Heaven and Earth' Power Behind Technologies in 2013 Ram 1500
'Moving Heaven and Earth' campaign showcases state-of-the-art features only offered in the new Ram truck
'Guts. Glory. Ram.' tagline and Sam Elliott, voice of Ram, to continue
Ram Truck brand introduces new bilingual Hispanic campaign, evolving 'A Todo, Con Todo' theme and featuring award-winning Latin musician Juanes

October 8, 2012 , Auburn Hills, Mich. - A new national advertising campaign, titled "Moving Heaven and Earth," demonstrates how state-of-the-art technologies like a powerful 3.6-liter Pentastar V-6 engine, class-exclusive eight-speed transmission, all-new air suspension system, revolutionary rotary shifter and next-generation Uconnect Access, give the new Ram 1500 the power to move heaven and earth and put the environment under the complete control of the driver.

The ads feature the Ram Truck brand tagline "Guts. Glory. Ram." The first television spots are scheduled to begin Oct. 12.

Fuel-saving technologies offered in the Ram 1500 pickup, providing the new truck with best-in-class fuel economy of 18 mpg city and 25 mpg highway, also will take center stage in another campaign running in key U.S. Hispanic markets. This next iteration of the brand's "A Todo, Con Todo" campaign (meaning "to everything, with everything") was produced in both Spanish and English and features the award-winning Latin musician Juanes.

"The Ram Truck brand has generated 29 months of consecutive sales growth and increased market share by offering the most capable trucks for every professional and lifestyle need," said Fred Diaz, President and CEO – Ram Truck Brand and Chrysler de Mexico. "The new Ram 1500 is more than a truck, it is the embodiment of no-compromise, industry-first innovations engineered to move heaven and earth, and it is built by a team of determined men and women destined to do the same to bring the most capable light-duty truck to market."

A 60-second commercial, titled "Road," establishes the concept of the national Ram 1500 campaign and sets the stage for four additional 30-second ads that follow.

"Set against nature's most inspiring landscapes, this campaign blends realism and surrealism to tell the story of how the entire Ram team moved 'heaven and earth' to build the new light-duty truck," said Olivier Francois, Chief Marketing Officer, Chrysler Group LLC. "These powerful and epic ads visually celebrate the innovative technologies and pioneering capabilities of the new Ram and the investment we put into bringing this new truck to market."

'Road'

The 60-second spot opens on a one-lane highway with the new Ram 1500 traveling underneath a starlit sky. The constellations appear to move as the driver changes SiriusXM satellite radio stations. The truck continues on its journey as a series of special effects are mixed with real footage to dramatically demonstrate the class-leading capabilities and features of the new light-duty truck. For example, two major cities come together to shorten the distances (better fuel economy) and a hawk suddenly freezes in mid-flight and shifts course (total control of rotary shifter).

Actor Sam Elliott, the voice of Ram, says "To take it all head-on ... shorten the distances, push beyond the possible, roar past convention, shift every course, defy the elements and bring the world to its knees. The new 2013 Ram 1500. Engineered to move heaven and earth."

Just as the truck comes to a stop at the edge of a rocky cliff, Elliott steps out, marking his first on-camera appearance in a Ram commercial. Elliott continues, "The road doesn't end here. This is only the beginning. Guts. Glory. Ram."

The 30-second commercials include:
"Horizon" – Best-in-class 25 mpg highway fuel economy provides for 160 more miles with every fill-up, shortening more distances than ever before to a single tank of gas.
"Dawn" – The revolutionary rotary shifter in the new 2013 Ram 1500, the first of its kind to be introduced in any pickup truck, puts the driver in absolute control of thier surroundings and the road.
"Mountain" – Class-excusive Active Level air suspension in the new Ram 1500 is designed to take on any obstacle in its path, leveling the steepest inclines, conquering the rockiest roads and easing the burden of even the toughest terrain.
"Sky" – The state-of-art Uconnect Access, featuring SiriusXM radio, has the power to put the universe and the satellites directly within the driver's reach in the new 2013 Ram 1500.
Ram will have a large television presence in professional and college football games, major league baseball playoff games, network and cable primetime programming, and syndicated network and cable sports and outdoor lifestyle programs beginning the weekend of Oct.13.

The first print ad debuts Friday, Oct. 12, in the USA Today sports section. It will be followed by full-page and spread ads in lifestyle publications popular with truck owners, including sports, outdoors, country music, fitness, do-it-yourself, technology and automotive enthusiast magazines.

In addition to television and print, the Ram 1500 campaign includes radio and digital advertising and will be augmented with custom media programs designed to introduce the capabilities of the new truck to customers and potential customers where they work, play and consume media.

The "Moving Heaven and Earth" campaign was created by Dallas-based The Richards Group.

Hispanic Advertising Campaign

The class-leading innovations of the 2013 Ram 1500, and the values of both Hispanic culture and the Ram Truck brand, are the focus of a new advertising campaign targeting the more than 50 million Hispanics in the United States. With trucks being one of the top-selling segments among Latinos and the Ram 1500 and 2500 among the best performing Chrysler Group nameplates with these consumers, the brand created a new series of television, print and radio ads that will run regionally in the top-volume U.S. Hispanic markets for Ram trucks.

The new campaign is the next iteration of the "A Todo, Con Todo" theme, first introduced last year, and features world-famous Latin musician, Juanes, a 17-time Latin Grammy Award winner who has sold more than 12 million albums worldwide.

The ads, produced in Spanish and English, will be placed on Hispanic television networks and stations such as Telemundo and Univision; in national Hispanic magazines including Automundo and ESPN Deportes La Revista; and in Spanish language local newspapers and radio stations in key Hispanic markets. The ads also will run on in-language websites.

"The new Ram 1500 is a symbol of the brand's commitment to hard work, determination and dependability, values shared with the Latino community and the same values and guiding principles that propelled Juanes to his success as an artist and social activist," Diaz said. "It is this type of personal conviction and dedication to doing what's right that makes Juanes an authentic brand ambassador for Ram, a true representative of the idea of living 'A Todo, Con Todo'."

The television campaign consists of a 60-second commercial, titled "Anthem," and two 30-second spots.

'Anthem'

The spot opens as Juanes drives through a town in a 2013 Ram light-duty truck. While people go about their daily activities, the voiceover says, "We all have our own set of challenges and to reach the big stage requires talent, desire, determination." As Juanes loads an all-terrain vehicle into the bed of the truck and heads into the backcountry, the announcer continues, "finding a way to rise above, push our limits further. The 2013 Ram 1500. Because success is not the destination, it's our journey. Ram. A Todo, Con Todo."

Two additional 30-second spots celebrate the class-leading technologies found in the new Ram 1500:

"Big Stage" – Best-in-class 25 mpg highway fuel economy provides more control and fewer stops on one's "drive to success."
"Suspension" – The truck's class-exclusive active air suspension helps make "rising to the challenge a regular occurrence."
In addition to the TV spots, Juanes will be featured in "A Todo, Con Todo" digital advertising.

The Ram Truck brand also will launch custom media programs this fall, linking Ram to Univision, Mexican regional music (Yahoo! En Espanol channel) and the Mexican Futbol soccer League.

In addition, Ram is partnering with the Futbol de Primera radio network as the official partner and exclusive automaker in all World Cup broadcasts.

The "A Todo, Con Todo" campaign was created by Dallas-based Richards/Lerma agency, the Hispanic marketing arm of The Richards Group.

About Ram Truck Brand

The Ram Truck brand continues to establish its own identity and clearly define its customer since its launch as a standalone vehicle brand. Creating a distinct brand for Ram trucks has allowed the brand to concentrate on how core customers use their trucks and what new features they'd like to see. Whether focusing on a family that uses its half-ton truck day in and day out, a hard-working Ram Heavy Duty owner or a business that depends on its commercial vehicles every day, Ram has the truck market covered.

The Ram Truck brand has the most innovative lineup of full-size trucks on the market. Ram Truck has emerged as a full-size truck leader by investing substantially in new products, infusing them with great looks, refined interiors, durable engines and features that further enhance their capabilities. Truck customers, from half-ton to commercial, have a demanding range of needs and require their vehicles to provide high levels of capability. Ram trucks are designed to deliver a total package.
---
By David Kiley
---
See also: Chrysler recalling 2009-2010 Ram 1500, Dodge Dakota pickups over axle pinion nut, 2013 Ram HD and Chassis Cab pickups are ready for work [UPDATE], 2013 Ram HD and Chassis Cab pickups are ready for work [UPDATE].