China, meet Hyundai's new Mistra sedan
Wed, 13 Nov 2013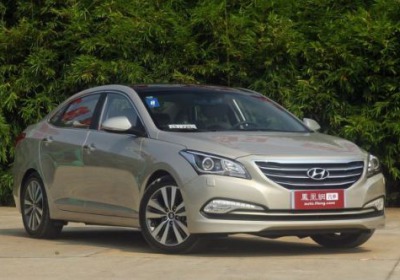 If there was no Hyundai badge, the front end styling of the Korean automaker's new China-only Mistra sedan could have fooled us into thinking it was a refreshed Nissan Altima. Walk around for profile and rear-end views, and we can see more than a bit of Azera in the newest Hyundai, too.

But the Mistra is indeed made for the Chinese market, Carscoops reports, and with a 185.6-inch length, 109.1-inch wheelbase and 71.7-inch width, in size it slots right between the Elantra and Sonata sedans. On the outside, the Mistra maintains Hyundai design cues but loses some of the swoopy styling employed on the Elantra and Sonata for more straight lines and angles.


The Mistra carries its more-restrained-than-Sonata looks to the interior, where occupants will be pleased to find brushed aluminum-look accents on the dashboard, some nice-looking wood trim (if that's your thing) and an easy-to-read instrument cluster with a digital center readout, similar to that in the Genesis sedan.

No 2.0-liter turbo motor makes it into the Mistra - Chinese buyers will have to make do with a choice between two naturally aspirated four-cylinder gasoline engines: a 1.8-liter mill that makes 143 horsepower, and a 2.0-liter engine good for 155 hp.
---
By Damon Lowney
---
See also: Quality issues drive resignation of Hyundai R&D president, Hyundai Genesis sedan recall swells to 43,500, Hyundai Veloster Turbos strut their SEMA stuff.