Chevy Silverado edges Ram 1500 in Consumer Reports two-truck shootout
Tue, 17 Sep 2013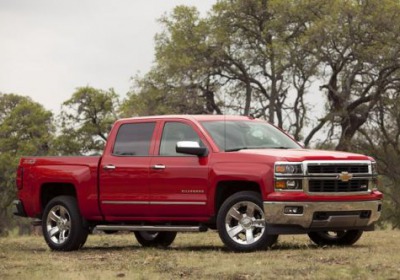 Forget Corvette versus Viper. When it comes to important head-to-head comparisons, fullsize trucks are where domestic automakers really care. And until the redesigned Ford F-150 makes its debut, the Chevrolet Silverado is going to have plenty to brag about thanks to a new Consumer Reports shootout against the Ram 1500.

It was a tight race among these V8-powered titans, but the all-new 2014 Silverado (and its GMC Sierra twin) barely edged out Ram's updated pickup with a score of 81 points – enough to make it the institute's top-rated fullsize truck on the market. Its narrow victory over the Ram, which finished just three points back, was due to its superior fuel economy, better towing and payload capacity and conveniences like a lower step-in height, easy-to-use tailgate and rear bumper steps that make loading and unloading less of a chore.

Importantly, CR notes that buyers with less heavy-duty truck needs might actually prefer the Ram over the Chevrolet, since its high points include a smoother ride thanks to its coil spring rear suspension, dominant infotainment system with Uconnect, and a big thumbs up for the available Hemi engine and eight-speed automatic transmission.

CR's full press release is posted below, or subscribers can check out the full article on the website.

CONSUMER REPORTS: CHEVEROLET SILVERADO IS TOP TRUCK, BUT RAM 1500 MAKES FOR A BETTER DAILY DRIVER

Showdown between the Silverado 1500 & Ram 1500 was neck-and-neck

YONKERS, NY- In a heavy-metal duel between two top pickup trucks, the Chevrolet Silverado 1500's "Excellent" road-test score makes it Consumer Reports' top-rated truck. But testers point out that the second-place Ram 1500 may be a better daily driver.

Each model won skirmishes along the way, and they finished one-two in a competitive pickup truck category- separated by only three points. Both trucks outscored the previously-tested Ford's F150 XLT, which 3.5-liter EcoBoost turbo V6 and 5.0-liter V8 versions rank third and fourth respectively.


The Silverado edged the Ram in several areas important to pickup truck owners. It has a much larger cargo bed, several hundred pounds greater payload capacity, and it can tow a heavier trailer-up to 11,200 pounds in Consumer Reports tests. Its tailgate is easy to raise and lower, and handy corner bumper steps help with climbing into the bed. The Silverado also has a lower step-in height than the Ram, aiding cabin access. Handling is more agile, and the Silverado delivers best-in-class fuel economy of 16 mpg overall-one mpg better than the Ram. That could save owners about 50 gallons of gas per year.

"The reality is that you can't go wrong with either one. Both are capable trucks that get decent gas mileage and are as quiet inside as a good luxury car," said Jake Fisher, director of automotive testing for Consumer Reports.

Consumer Reports opted to test the Silverado's widely sold 355-hp, 5.3-liter V8 version with four-wheel-drive. The 5.3-liter delivered ample acceleration, but it lacked the thrust of the 5.7-liter V8s in the Ram 1500 and Toyota Tundra. The Silverado's transmission up shifts smoothly and quickly but can be reluctant to downshift, making the truck sometimes feel underpowered.

Towing Consumer Reports' 5,000-pound trailer to 60 mph took 14.8 seconds, a strong performance. Off-road performance on Consumer Reports' demanding rock hill course was hampered by wheel spin and ground clearance.

For drivers using their truck more for day-to-day driving, Consumer Reports testers found the Ram is a nicer place to spend your time. It rides better, thanks to its unique rear coil spring suspension. The interior is also more comfortable with better front seats, a nicer rear seat, and a slightly friendlier control layout

Consumer Reports tested the Ram with Chrysler's 5.7-liter Hemi V8, four-wheel-drive, and a new eight-speed automatic transmission that's smooth and efficient. Consumer Reports found that combination delivered seamless and effortless power, while returning a relatively good 15 mpg overall. Acceleration is quicker than the Silverado and the Hemi feels much brawnier in real-world driving.

The Ram also brings its own impressive workhorse credentials. Its driver-selectable full-time four-wheel-drive system works well, and the truck scrambled up Consumer Reports' rock hill with ease. It can tow up to 9,950 pounds when properly equipped. The truck pulled Consumer Reports' 5,000-pound trailer to 60 mph in 14.9 seconds, a strong showing.

Complete tests results for the Chevrolet Silverado 1500 and Ram 1500, as well as results of the updated-for-2014 Honda Odyssey appear on www.ConsumerReports.org today, and in the November issue of Consumer Reports, on newsstands October 5. Updated daily, ConsumerReports.org is the go-to Website for the latest auto reviews, product news, blogs on breaking news, and car-buying information. Check out CR's ongoing Twitter feed at @CRCars.

Consumer Reports is the world's largest independent product-testing organization. Using its more than 50 labs, auto test center, and survey research center, the nonprofit rates thousands of products and services annually. Founded in 1936, Consumer Reports has over 8 million subscribers to its magazine, Website and other publications. Its advocacy division, Consumers Union, works for health reform, food and product safety, financial reform, and other consumer issues in Washington, D.C., the states, and in the marketplace.
---
By Jeffrey N. Ross
---
See also: GM 6.2L V8 claims most powerful light-duty truck engine title, 2015 Chevy Tahoe, Suburban and GMC Yukon unveiled, Chevy Colorado, GMC Canyon midsize pickup trucks to get diesel engines.