Chevy SS prototype spotted wearing Pontiac G8 clothes
Tue, 28 Aug 2012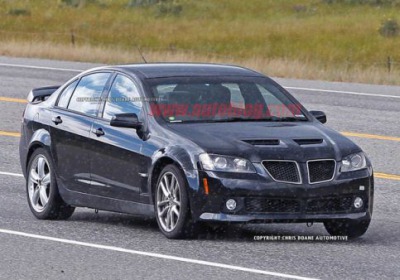 Do not adjust your computer screen, you are not seeing the rebirth of the Pontiac brand. General Motors has chosen to use a G8 to disguise a test mule for the latest prototype of the forthcoming Chevrolet SS. The G8 was closely related to the Holden Commodore and Vauxhall VXR, the platform upon which the new Chevrolet performance model will be based. It should come as little surprise, then, that GM has opted to use the cladding from the former G8.

Thought the front clip of this mule is pure Pontiac, note the vents immediately behind the front wheel. That is a distinctive design hallmark of the Vauxhall VXR. Also note that this vehicle is right-hand drive, as the Holden and its Chevy counterpart will be very closely related. That likely includes potential drivetrains. The spy photos of this mule also reveal very wide rear tires, and rear wheels that do not match the fronts.

Production of all three vehicles is set to begin in Australia in late 2013. Click below to check out the gallery of the test mule for Chevy's new rear-drive performance vehicle.
---
By George Kennedy
---
See also: These cars are headed to the Great Crusher In The Sky, GM recalling 250,000 SUVs over door electronics, Indian tuner turns Chevy Optra into Mustang 'Eleanor' replica.