Canadian man saves four kids with Hummer [w/video]
Sat, 08 Sep 2012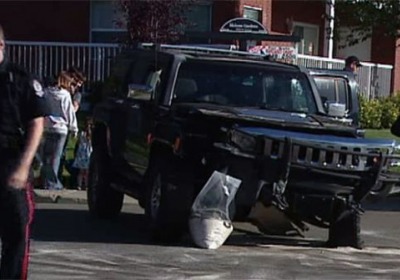 A quick-thinking driver in Canada put his own life on the line last month when he drove his Hummer H3 in front of a distracted driver to save four children. Darrell Krushelnicki, 46, of Taber, Alberta, saw a car about to speed through an intersection. Four kids, whose ages ranged from three to 16 years old, were in the in the crosswalk, so Krushelnicki pulled his truck in front of a silver Pontiac Pursuit (known as the Pontiac G5 in the U.S.) to prevent them from being hit.

The identity of the other driver is unknown, but the news report says the 23-year-old male was talking on his cell phone while traveling around 80 kilometers per hour (close to 50 miles per hour) in a 30 kph speed zone (less than 20 mph). Thankfully, nobody was hurt, and while there's no word as to whether the distracted driver was ticketed, police say that they're recommending Krushelnicki for an award.


For additional details, check out the news video, which we've posted below.


---
By Jeffrey N. Ross
---
See also: AM General to offer civilian Humvee kit car, Automakers tussle over owners of 'orphan' makes, Humvee reborn on the battlefield... with a chimney?!.