Cadillac flagship, possible production Elimiraj, caught testing
Fri, 30 Aug 2013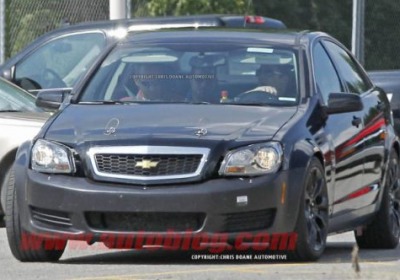 One of the biggest debuts at the Monterey car week, both literally and figuratively, was the Cadillac Elmiraj Concept. The massive coupe made quite a splash with the show's well-heeled guests. Now, we have what might be the very first images of the Elmiraj, or whatever it may be called when it reaches production, out testing.

Don't let that modified Chevrolet Caprice body fool you, this car is about four to six inches longer than Chevy's US-spec cop car, from the A-pillar forward. According to our spy, with the Caprice at 203 inches and the concept at 205, adding a few extra inches here and there fits the bill for the four-door Elmiraj that was hinted at in Jay Leno's Garage.


There are a number of other classic mule signs on this car, including a cover over the fuel door and heavily modified front and rear fascias, each of which serves to hide some significant change from the standard Caprice. Using a Caprice for development also, hopefully, hints at something that big Cadillacs like the XTS have lacked - rear-wheel drive.

This is quite an exciting development for Cadillac fans. A new flagship, with a stylish, four-door-coupe body that will take aim at the Mercedes S-Class is something that Caddy enthusiasts have been begging for. With a debut set for sometime in 2015, though, there's still plenty of waiting and a lot that can change. Watch this space.
---
By Brandon Turkus
---
See also: Cadillac Elmiraj Concept slinks in Leno's Garage, Cadillac CTS Vsport laps the N"urburgring in 8:14.10 [w/video], Cadillac planning more Vsport models.