CNN chronicles young girl building Pontiac Fiero
Fri, 26 Oct 2012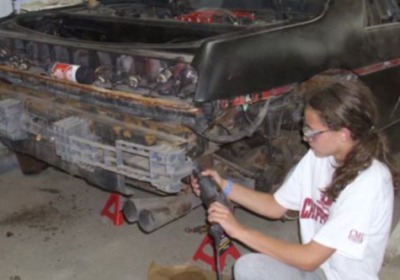 At fourteen years of age, Kathryn DiMaria has already done what many self-proclaimed gearheads won't even attempt in their lifetimes. The Dearborn, Michigan teen is rebuilding a car from the ground up.

The intrepid youngster asked her parents when she was just twelve to start a Pontiac Fiero project, even offering to pony up all the funds herself. Father, Jerry DiMaria only expected the project to last a few months, but two years later, Kathryn is still at it. In this CNN video, the two are at Maker Faire (a DIY festival) rebuilding a 3.4-liter V6 engine out of a Chevrolet Camaro to replace the 2.8-liter mill found in the Fiero.

The whole family hast pitched in, with Kathryn's mother teaching her how to sew in order to complete the interior, father Jerry providing much of the technical know-how, and even her sister is chronicling Kathryn's progress through photos. Jerry even started a thread in a Fiero forum which has been live for two years and is now 22 pages long. Of the project, one forum member wrote, "welcome to the madness."


Apparently math and science lessons are coming into play in her project, hopefully putting an end to the "Why do I need to learn this?" argument, at least among her classmates. The lessons will hopefully allow Kathryn to follow her dream to become an engineer. The target date for the project's completion is Kathryn's sweet 16. You can check out her progress in the video below.


---
By George Kennedy
---
See also: GM recalling over 40,000 Chevy, Pontiac and Saturn models over fuel pump woes, GM recalling 426,000 sedans over faulty transmission shift cable, Wanted: 1967 Pontiac GTO for a special Father's Day.