Buick version of Equinox/Terrain CUV spied testing... with autonomous gear?
Wed, 12 Jun 2013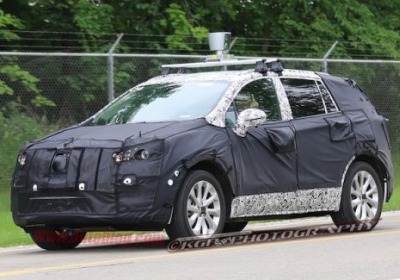 Let's get the most pressing bits of this story out of the way right off the bat: What we see here appears to be a new compact crossover from Buick. According to the spy photographer, this machine may be a little bit smaller on the outside than the current Chevrolet Equinox and GMC Terrain 'utes, which makes sense since recent rumors suggest GM's small crossovers will migrate to a new platform that will mark a convergence between the automaker's Delta (Chevy Cruze, Buick Verano) and Theta (Equinox, Terrain) platforms. This Buick would likely use this new D2UX platform.


We've been expecting Buick to unleash a crossover to slot between the very small Encore and the very large Enclave, and various rumors have indicated that the model may be known as either the Anthem or Envision. It's worth mentioning that Buick had planned, back in 2009, to release a vehicle in the compact CUV market, but abandoned those plans after a particularly poor reception.

And now for something completely different... Take another look at the spy shots above, and pay special attention to the cylindrical device mounted to the vehicle's roof. We can't say for sure what it is, but our spy photographer opines that it looks quite a bit like the 360-degree Lidar camera equipment used by Google for its autonomous cars. Is General Motors working with Google on autonomous car technology? We don't know, but you can definitely consider us intrigued.
---
By Jeremy Korzeniewski
---
See also: GM to offer 2 years free maintance on most 2014 models, OnStar RemoteLink mobile app coming standard on all new GM vehicles, 2013 Buick Encore nets strong IIHS, NHTSA safety scores.