Bugatti Veyron Grand Sport Venet on display in Beverly Hills
Thu, 24 Oct 2013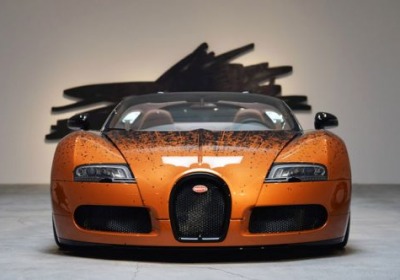 Even if you don't consider yourself an art connoisseur, Bugatti just gave car lovers a great reason to visit the Ace Gallery in Beverly Hills, CA. As a part of an exhibit for French artist Bernar Venet, the Bugatti Veyron Grand Sport Venet, which was unveiled last year, is also on display.


Although not quite as exciting as a date in the desert with the Lamborghini Veneno, we still hopped at the chance to get an up-close look at this custom Veyron. Venet, who had said that the Veyron is a work of art on its own, decided to put his touch on the car by using Bugatti's engineering equations – all of the mathematical equations and notations make the car look like it was left on the set of A Beautiful Mind.

If you're going to be in Beverly Hills over the next week, perhaps you'd be interested in checking out the Ace Gallery yourself – admission is free. If not, well, we hope the high-res image gallery above proves to be a reasonable alternative. Enjoy.
---
By Jeffrey N. Ross
---
See also: Bugatti does up a special Vitesse for Lang Lang, Bugatti Veyron Grand Sport Vitesse 'Jean Bugatti' recalls La Voiture Noire, Bugatti favoring Veyron replacement over Galibier sedan.