BMW i8 will be first production car to use Gorilla Glass
Wed, 07 Aug 2013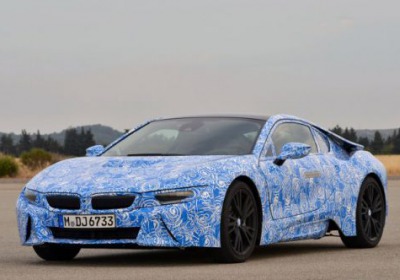 What do smartphones and the BMW i8 have in common? Glass. Scratch-resistant Gorilla Glass, that is. The i8 will be the first production car to use the chemically hardened material, which is more durable, lighter and provides more sound deadening than conventional laminated automotive glass. We thought it would be a natural replacement for windshields, but, according to Autoweek, BMW said it will be used for the rear window for sound deadening purposes. The Gorilla Glass will still be laminated, with two 0.7mm thick layers of it sandwiching an acoustic sheet, reports Autoevolution.


BMW reportedly claims the i8 will weigh less than 3,285 pounds, and to offset the heavy hybrid powertrain to reach that goal the automaker has implemented lightweight materials normally not found in mass-production automobiles. With a carbon fiber reinforced plastic (CFRP) monocoque used for both the (relatively) pedestrian i3 and the upscale i8, it's not surprising BMW was also the first to jump onto Gorilla Glass, especially given the timing of a report that a high-end automaker would introduce it within the year.

Be sure to check out our First Drive review of the i8 to see if BMW's newest sports car is living up to the hype.
---
By Damon Lowney
---
See also: BMW 4 Series Convertible basks in the sun, 2015 BMW i8 Prototype, BMW 1 Series getting a small nose job.