BMW 4 Series configurator comes online
Mon, 08 Jul 2013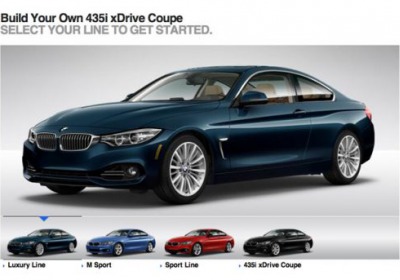 The best money in the world might be configurator money - you never run out of it and you can never spend it the wrong way. We hope you're ready to dip into your configurator savings account, because it's time to start speccing out the 2014 BMW 4 Series, the coupe having just arrived in the virtual world.

There are four possible opening gambits: the 428i for $40,500, the 428i xDrive for $42,500, the 435i for $46,000 or the 435i xDrive for $48,000. After you've chosen your first move, there are three trim options: the $1,400 Luxury Line that features lots of chrome and wood (shown), the $1,700 Sport Line that adds lots of gloss black and contrasting trim color and stitching, or the $3,100 M Sport that offers the M Estoril Blue hue and lots of M-division specific accessories.


Starting with the 435i xDrive and M Sport, we then added items like the 19-inch wheels ($900), the Dynamic Handling Package ($1,000), Cold Weather Package ($700), Premium Package ($2,200), Tech Package ($3,150) and the Lighting Package ($1,900) on top of any other box we could check. The total, after the $925 destination and handling charge: $66,749.

That's a fair price to us because it's free. Head on over to the 4 Series playpen and see what kind of damage you can do.
---
By Jonathon Ramsey
---
See also: Hyundai, BMW and Ford win Concept Vehicle of the Year awards, This is the final BMW M3 Coupe, BMW revisits its 8 Series.