Autoweek divulges details on Presidential limo
Tue, 22 Oct 2013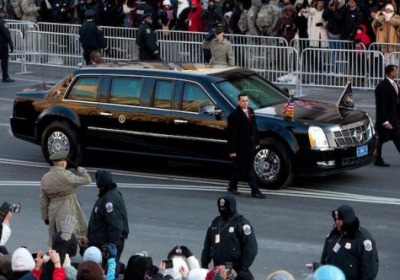 Ever since the latest presidential limousine, also known as The Beast, debuted in 2009, we've wondered what's underneath that black Cadillac body. We already know a few details, like the fact it isn't a Cadillac at all, but a very heavy duty truck chassis from General Motors with a body that resembles a super-sized Caddy. Autoweek, however, has managed to extract new details from veteran Secret Service agents about the closely guarded presidential limo. Their methods, of course, are classified.

Designed to be a rolling office, bunker and escape pod all in one, the current presidential limo is far different from previous presidential state cars, which were heavily modified production vehicles. As we would expect, The Beast uses thick, military-grade body armor (eight inches on the doors), an armored fuel tank, special run-flat tires with Kevlar lining, an encrypted satellite phone, a fully sealed cabin with its own oxygen supply and a trunk full of weapons and medical equipment that includes a supply of the President's blood type (in case the car gets cut off from the ambulance that's always present in the President's motorcade).


The Beast also comes with a Halon fire-suppression system, night vision and is powered by a V8 engine, which we already knew runs on gas and not diesel, that returns an EPA-unfriendly estimated 3.7 miles per gallon. The Secret Service operates a fleet of 12 limos and each Beast costs $1.5 million. Lastly, AW estimates that the 18-foot-long state car weighs 15,000 pounds, and each Secret Service agent that drives the car must be specially trained to maneuver such a massive vehicle.

Interestingly, the article says that one of the main reasons The Beast is more beastly than its predecessor is that the previous design, which was retired during the George W. Bush presidency, couldn't handle all of the added weight and equipment. In particular, the production-grade transmissions and brakes required frequent replacing. We know the Secret Service is already looking for The Beast's replacement, so we've included below our previously published renderings of what it might look like.
---
By Jeffrey N. Ross
---
See also: GM considering new powertrain options for large SUVs, 2015 Cadillac Escalade is exactly what you expect [w/video], Cadillac shows 2015 Escalade interior.