Automakers donating money, vehicles and supplies to Oklahoma tornado relief effort
Fri, 24 May 2013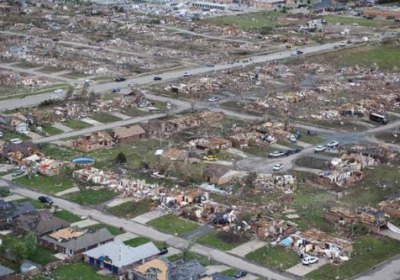 Judging by the destruction the Oklahoma City area experienced earlier this week, residents are going to need a lot of help in coming months. Fortunately, a number of automakers – including General Motors, Ford, Chrysler, Volkswagen, Honda and Toyota – have stepped up to donate money, supplies and vehicles to aid in the recovery and rebuilding processes.

Here's a quick rundown of which automakers have pitched in and what each contributed so far:

Ford Motor Company and Its Dealers Pledge $400,000 for Oklahoma Tornado Relief; Ford Transit Connect Donated
-Ford Motor Company and its dealers announce $400,000 in donations following the destructive Oklahoma tornadoes
-Donations include $250,000 from Ford Motor Company Fund to the American Red Cross and $150,000 from Oklahoma Ford Dealers to the United Way
-Ford Motor Company also is donating a Ford Transit Connect van to the American Red Cross, and providing $500 for drivers with tornado-damaged vehicles in affected areas toward the purchase of a new Ford vehicle

DEARBORN, Mich., May 22, 2013 – As Oklahoma residents struggle to rebuild their lives after this week's devastating tornadoes, Ford Motor Company and its dealers are donating $400,000 to assist with relief efforts. Ford Motor Company also is donating a Ford Transit Connect van to the American Red Cross for relief services and emergency preparedness education.

Ford Motor Company Fund will match donations up to $250,000 from its employees, dealers and the public in support of relief efforts by the American Red Cross.

The Oklahoma Ford Dealers group is contributing $150,000 to the United Way.

Also, Ford Motor Company is providing $500 in new vehicle purchase assistance to residents in affected areas whose vehicles were damaged by the tornadoes.

"The impact of these tornadoes is devastating on thousands of families," said Jim Vella, president, Ford Motor Company Fund and Community Services. "We know there is great need for assistance, and Ford, its dealers and employees are coming together to provide needed resources. Please join us by donating through the link below."

Donations made through this link will be matched by Ford Motor Company up to $250,000: http://american.redcross.org/ford-pub.

"Oklahoma Ford dealers encourage everyone to step up to help those impacted by these devastating tornadoes," said Craig Billingsley, chairman of the Oklahoma Ford Dealers.

"We know how much this tragedy is impacting our customers, neighbors and friends," he added.

Ford Motor Company is an active partner in the Red Cross Disaster Responder program. Through this program, a select group of companies pledge donations on an ongoing basis in advance of major disasters, which helps the Red Cross ensure an immediate response to meet the needs of those affected by disasters. Ford Motor Company has partnered with the American Red Cross for more than 30 years.

About Ford Motor Company
Ford Motor Company, a global automotive industry leader based in Dearborn, Mich., manufactures or distributes automobiles across six continents. With about 175,000 employees and 65 plants worldwide, the company's automotive brands include Ford and Lincoln. The company provides financial services through Ford Motor Credit Company. For more information regarding Ford and its products worldwide, please visit http://corporate.ford.com.

About Ford Motor Company Fund and Community Services
Ford Motor Company Fund and Community Services works with community partners to advance driving safety, education and community life. For more than 60 years, Ford Motor Company Fund has operated with ongoing funding from Ford Motor Company. The award-winning Ford Driving Skills for Life program teaches new drivers through a variety of hands-on and interactive methods. Innovation in education is encouraged through programs that enhance high school learning and provide college scholarships and university grants. Through the Ford Volunteer Corps, 25,000 Ford employees and dealers work on projects each year that better their communities in 30 countries. For more information, visit www.community.ford.com.

# # #

VOLKSWAGEN GROUP OF AMERICA SUPPORTS OKLAHOMA TORNADO RELIEF EFFORTS
-Volkswagen of America Foundation to contribute $250,000 to the American Red Cross and Habitat for Humanity for relief efforts-

Herndon, VA - The Volkswagen of America Foundation, which was created by Volkswagen Group of America, Inc., announced today that it will make an immediate donation of $250,000 to the American Red Cross and Habitat for Humanity to assist with the disaster relief efforts following the devastating tornadoes in Oklahoma.

"Given the severity of the disaster in Oklahoma, the Volkswagen of America Foundation has decided to provide resources to the American Red Cross and Habitat for Humanity, who can then allocate the resources where needed," said Jonathan Browning, President and CEO, Volkswagen Group of America. "It is our hope that this donation will provide some relief to those affected and help them rebuild their communities and their lives."

The donation will help cover costs of shelter, food, recovery and other assistance to families affected by the tornadoes. Volkswagen would like to express its thoughts and concern for all of those affected, including dealers, employees and their families. Additionally, Volkswagen will provide matching funds to any employee donations made to the American Red Cross, Habitat for Humanity or the organization of their choosing.

The Volkswagen of America Foundation was formed by the Volkswagen Group of America, Inc. to make grants to organizations that provide disaster relief.

About Volkswagen Group of America, Inc.
Volkswagen Group of America, Inc. is a wholly owned subsidiary of Volkswagen AG, one of the world's leading automobile manufacturers and the largest carmaker in Europe. It operates a manufacturing plant in Chattanooga, Tennessee and houses the U.S. operations of a worldwide family of distinguished and exciting brands including Audi, Bentley, Bugatti, Lamborghini and Volkswagen, as well as VW Credit, Inc. Founded in 1955, the company's headquarters are in Herndon, Va., and Volkswagen Group of America brings to the U.S. vehicles that marry the science of engineering and the art of styling, with the goal of offering attractive, safe, and environmentally sound automobiles that are competitive and set world standards in their respective classes. The company has approximately 5,900 employees in the United States and sells its vehicles through a 950-strong dealer network.

# # #

The Chrysler Foundation Supports First Response Team of America's Oklahoma Tornado Relief Efforts

May 22, 2013 , Auburn Hills, Mich. - In the wake of the devastating tornado that hit Oklahoma earlier this week, The Chrysler Foundation, the charitable arm of Chrysler Group LLC, today announced that it will provide $100,000 to First Response Team of America (http://firstresponseteam.org), a nonprofit disaster relief organization which assists local first responders with rescues and also provides help with cleanup efforts.


"We know that the road to recovery for the residents of Moore and Oklahoma City will be long," said Reid Bigland, President and Chief Executive Officer - Ram Truck Brand, Chrysler Group LLC. "The Chrysler Foundation is proud to support First Response Team of America's efforts to help the people of Oklahoma get back on their feet." The Ram Truck brand has an existing relationship with First Response Team of America, including donating three heavy-duty trucks to support their efforts.

First Response Team of America goes from disaster to disaster lending a hand and assisting with rubble and water rescues and cleanups, clearing roads, creating a way into the community by removing debris and pumping out floodwaters, powering up emergency rooms, nursing homes and shelters and clearing home sites for those without insurance. The team tracks weather conditions so it is positioned to be nearby and ready to assist when disaster strikes. The team's heavy equipment includes Ram trucks, multi terrain loaders, cranes, lighting towers, plasma cutters and a hovercraft for water rescues.

Last year, the Ram Truck brand announced a partnership with The Weather Channel Companies (TWCC) and First Response Team of America. Sponsored by the Ram Truck brand, TWCC launched an exclusive cross-platform series of in-the-field "Responding by Storm" reports chronicling the works of the First Response Team of America.

"Our thoughts and prayers are with the people of Oklahoma," said Jody Trapasso, President – The Chrysler Foundation. "We are heartened by their unwavering spirit during this difficult time and we are humbled to support the relief and recovery efforts."

Chrysler Group and its brands have a long history of supporting its communities in their time of need. In the wake of last year's Superstorm Sandy, the Ram Truck brand donated 20 Ram 1500 Tradesman trucks and $100,000 to the American Red Cross.

About Ram Truck Brand
The Ram Truck brand continues to establish its own identity and clearly define its customer since its launch as a standalone vehicle brand. Creating a distinct brand for Ram trucks has allowed the brand to concentrate on how core customers use their trucks and what new features they'd like to see. Whether focusing on a family that uses its half-ton truck day in and day out, a hard-working Ram Heavy Duty owner or a business that depends on its commercial vehicles every day, Ram has the truck market covered.

The Ram Truck brand has the most innovative lineup of full-size trucks on the market. Ram Truck has emerged as a full-size truck leader by investing substantially in new products, infusing them with great looks, refined interiors, durable engines and features that further enhance their capabilities. Truck customers, from half-ton to commercial, have a demanding range of needs and require their vehicles to provide high levels of capability. Ram trucks are designed to deliver a total package.

About The Chrysler Foundation
The Chrysler Foundation, the charitable arm of Chrysler Group LLC, has established a proud legacy of empowering people in the communities where we live and work. The Chrysler Foundation focuses on four key areas through its grant application process and volunteer activities: Education: K-12 and post-secondary education initiatives that encourage the study and pursuit of careers in business, design, science, technology, engineering, mathematics or supply-chain management; Military: support for our nation's service members and their families in need; Multicultural / Diversity: initiatives that promote inclusion and advancement opportunities for diverse populations; and Youth Development: organizations and programs that provide mentoring and related assistance to aid youth in the transition to adulthood.

Since its inception in 1953, The Chrysler Foundation has awarded more than $500 million in charitable grants.

# # #

GM Foundation and Chevrolet Donate to 'Help 4 Oklahoma'

Forgotten Harvest leads aid gathering for Regional Food Bank of Oklahoma and tornado victims

DETROIT – The General Motors Foundation is pledging $50,000, and Chevrolet is donating a 2013 Chevrolet Silverado full-size pickup to Forgotten Harvest to assist with the organization's "Help 4 Oklahoma" campaign to get supplies to the Regional Food Bank of Oklahoma and help those impacted by this week's devastating tornadoes.

"The GM Foundation's $50,000 donation to Forgotten Harvest for 'Help 4 Oklahoma' is just the first step in our support for those impacted by the tornadoes," said Selim Bingol, GM's global vice president of Communications and Public Policy and the chairman of the GM Foundation. "Our employees want to help and will volunteer locally at Forgotten Harvest, and we will engage our plants and other facilities across the U.S. to collect food to help this effort."

To implement "Help 4 Oklahoma," Forgotten Harvest is partnering with the GM Foundation, Chevrolet, Art Van, WDIV-TV 4, WJR AM 760 and The Detroit Media Partnership.

"We will be collecting shelf-stable foods, and medical and hygiene products for the Regional Food Bank of Oklahoma," said Susan Goodell, CEO of Forgotten Harvest. "Vehicles will be instrumental in the implementation of this effort and we thank Chevrolet for this generous donation."

Said GM North America President Mark Reuss, vice chair of the GM Foundation: "Chevrolet continues its support of local organizations and disaster relief efforts with the donation of a Chevrolet Silverado to Forgotten Harvest. GM and the GM Foundation will support 'Help 4 Oklahoma' with the full breadth of our operations."

Since 2004, the GM Foundation has provided more than $7 million to global disaster relief efforts. The Foundation is also a member of the American Red Cross Disaster Responder Program to ensure that the Red Cross has funds on hand to provide immediate relief when disaster strikes.

Anyone interested in donating to "Help 4 Oklahoma" may call 888-332-7140, visit www.forgottenharvest.org, drop off shelf-stable items at any Art Van location, or visit www.redcross.org.

# # #

Toyota Donates $250,000 to Oklahoma Tornado Relief Efforts
Local Organizations in Affected Areas to Receive Funds

NEW YORK, May 23, 2013 – Toyota today announced a $250,000 donation to support relief and rebuilding efforts for victims of the tornado that hit Moore, Oklahoma and the greater Oklahoma City area on May 20. Funds will be allocated to immediate response and for mid-to-long term needs in the areas of food, small business revitalization and home rebuilding. Toyota will also match employee contributions.

"On behalf of Toyota, we express our sincere condolences to everyone impacted by this devastating tornado. Our thoughts are with the affected families as they work to rebuild their lives," said Latondra Newton, group vice president of philanthropy and chief diversity officer.

About Toyota
Toyota (NYSE: TM) established operations in the United States in 1957 and currently operates 10 manufacturing plants. Toyota directly employs over 31,000 in the United States and its investment here is currently valued at more than$19.5 billion,including sales and manufacturing operations, research and development, financial services and design.

Toyota is committed to being a good corporate citizen in the communities where it does business and believes in supporting programs with long-term sustainable results. Toyota supports numerous organizations across the country, focusing on education, the environment and safety. To date, Toyota has contributed nearly 700 million to philanthropic programs in the United States.




---
By Jeffrey N. Ross
---
See also: Next-gen Toyota Prius spied inside and out, Move over Audi, now Chrysler has a beef with Tesla's claims, Ford to cease Australian automaking operations after 90 years.