Audi mulling producing version of Quattro showcar, just not sure which one [w/poll]
Fri, 13 Sep 2013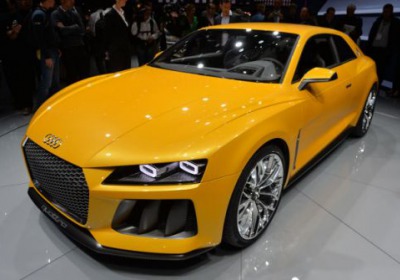 Head of design for Audi, Wolfgang Egger, has told Auto Express that a reborn Quattro could enter production, but bosses for the company haven't yet decided whether to base it on the Sport Quattro concept that just debuted at this week's Frankfurt Motor Show or the smaller Quattro concept that was revealed at the 2010 Paris Motor Show.

While both draw their inspiration from the original Ur-Quattro of the 1980s, they vary wildly in both size and choice of powertrain. The 2010 Quattro concept was based on Volkswagen's MQB platform, shared with such vehicles as the Golf and Audi A3. The Sport Quattro, meanwhile, was built atop the company's larger MLB platform that's used almost exclusively for Audi models, including the A5, which is also a coupe.


Under their hoods, the 2010 Quattro concept simply employs a version of the same 2.5-liter engine used in the TT RS, tuned to deliver 408 horsepower, while the Sport Quattro goes nuclear with a twin-turbo V8 hybrid powertrain that develops 700 hp and 590 pound-feet of torque. Both, of course, employ quattro all-wheel drive just like their forebearer.

As for which one we think Audi will choose if the project gets rubber-stamped for production, there are good arguments on both sides. We've heard a limited-edition production version may command Porsche 911-like dollars, or even beyond. The larger, Sport Quattro and its supercar-caliber powertrain would likely require more than R8 money, and a production model based on the smaller, more affordable Quattro concept of 2010 would likely be more in keeping with the mission of the original (not to mention easier to produce).

We've actually driven the latter Quattro concept, which you can read about here, so we're hoping Audi throws us the keys to the Sport Quattro soon. You know, just so we can offer our informed opinion.
---
By John Neff
---
See also: 2014 Audi A3 Cabriolet cleans up the Messe [w/video], 2015 Audi A8 rises to meet the challenge [w/video], Audi Sport Quattro Concept speaks softly, carries a 700-hp stick.